The entrepreneurial ecosystem associated with Case Western Reserve University is expanding: A new network of early-stage investors, started by alumni and faculty, plans to invest directly in promising startup businesses that include university students, graduates, staff, faculty and supporters.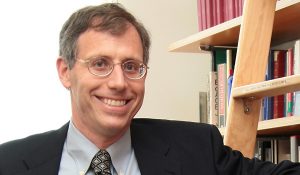 The Case Angel Network—an initiative independent of Case Western Reserve—is led by university alums and venture capitalists Ben Bayat and Vikram Gupta. The network is supported by an investment committee that includes Scott Shane, the A. Malachi Mixon III Professor of Entrepreneurial Studies at the Weatherhead School of Management.
"This is a great way to gather—and support—entrepreneurs from the talented and diverse university community that we have in common," said Shane, who also serves as a partner and advisor for the network. "By connecting startups with angel investors, we're aiming to help more entrepreneurs find more success."
How it works
Angel investors provide funds during critical early stages of a startup company in exchange for equity in the venture.
The Case Angel Network will gather investors and businesses for pitch meetings and networking, with the hope that these connections will result in investments and partnerships.
Returns on investments made through the network may also be directed back to the university: Each participating venture capitalist will be asked to sign a non-binding pledge to donate a portion of the related profits to Case Western Reserve, to help further strengthen the university's offerings for entrepreneurs.
"By forming an investing community with a common passion for Case Western Reserve, everyone benefits: Investors will see more opportunities, entrepreneurs have greater access to capital and more innovation will come from Cleveland," Bayat said.
Among the network's first moves will be to link investors from Silicon Valley and beyond with the winners of the inaugural Morgenthaler-Pavey Startup Competition (MPSC), a new contest co-led by Case Western Reserve and JumpStart Inc.—a Northeast Ohio-based nonprofit supporting entrepreneurs. Companies competing in the MPSC must have at least one current or recent university student or graduate.
Involved alumni

Ben Bayat, a 2003 graduate with bachelor's degrees in engineering and physics, works for the San Francisco area-based venture-capital firm Illuminate Ventures, which invests in early-stage software companies.

Vikram Gupta, founder and managing partner of IvyCap Ventures, based in Mumbai, India, earned an MBA from Case Western Reserve in 2001.

Jonathon Vinocur, a 2003 School of Law graduate and partner at Thompson Hine LLP, works exclusively with high-growth tech companies and venture-capital investors; he will provide complimentary legal assistance to the network.
Taking the unique approach of placing students on both sides of the competition, the MPSC launched last fall with Shane's students evaluating the startups during its initial round.
On March 15, six finalists will vie for $50,000 in prizes—making their final pitches to a panel of professional investors and the public; register for the free event at the Larry Sears and Sally Zlotnick Sears think[box].
Similar to the MPSC, the Case Angel Network is being designed as an educational tool: Case Western Reserve students will serve as interns and will help research potential clients for investors. The network's first intern is Kelsey Holmberg, a junior double-major in economics and political science and an entrepreneurial studies minor, from Saline, Michigan.
The network will also maintain an office at Sears think[box], once the entrepreneurship-focused sixth and seventh floors of the makerspace are completed later this year.
---
For more information, contact Daniel Robison at daniel.robison@case.edu.
This article was originally published March 5, 2018.