A shift in modality leads to changes in how we teach and learn—including some lessons that may last well beyond the pandemic
By Harlan Spector
This article first appeared in a summer publication related to the university's response to the COVID-19 pandemic. More articles will appear in The Daily and on the university and school social media accounts in upcoming weeks; visit case.edu/together to see more.
When Case Western Reserve announced its move to remote learning this spring, Professor Daniel Lacks knew it would be a challenge.
Word came in the midst of spring break, and he and his colleagues had just seven days to overhaul their courses for remote delivery.
The change meant more than uploading slides to Zoom and sending students links. It meant figuring out how to engage students via screen; conveying lessons of lab experiments without the lab; and teaching students in different time zones around the world.
It also meant making sure students felt connected to each other and to the university.
Even with all of the challenges, though, Lacks, PhD, chair of the Department of Chemical and Biomolecular Engineering, had confidence in his faculty.
But when he looked at student ratings for his department's spring courses, they weren't simply solid—they were the highest on record.
"That was pretty incredible under the circumstances," Lacks said.
The high marks did not mean students preferred remote learning, he was quick to add, but that they appreciated instructors' extra efforts—including online weekend activities to help build community.
"Our faculty really stepped up," he noted. "Professors went out of their way to make it a good experience."
As an institution with roots in the Middle Ages, higher education is not typically known for its agility. But faced with a pandemic that upended every aspect of daily life, Case Western Reserve accepted the imperative to adapt—and, in many instances, embraced it.
From a student starting her own pandemic course, to all-star guest speakers, to alumni offering unexpected opportunities, the community demonstrated initiative, creativity, and inspiring dedication.
Even more, the success of those efforts showed the campus how quickly innovation can happen when shared purpose and necessity meet.
The pandemic as a learning opportunity
When Elisabeth Wynia, MD (MED '20), learned her last hospital rotation was canceled, she decided the cause of the disruption—the global pandemic—was exactly what she and her peers needed to understand.
Wynia's interest led her to pitch a two-week elective course, Epidemiology of Pandemics and Global Response, for third- through fifth-year medical students. With the help of Charles Kent Smith, PhD, senior associate dean for student affairs at the School of Medicine, and James Kazura, MD, a Distinguished University Professor who holds the Adel A. Mahoud Professorship in Global Health and Vaccines at the School of Medicine, Wynia crafted a syllabus, and her course won approval within days.
Some 40 students signed up for the elective, which included extensive reading about roots of pandemics and reasons for their spread, as well as studies of different nations' responses.
"I could not think of anything more useful or more important in the time we are living," she said.
A University of Zoom

As classes went remote, Case Western Reserve's reliance on video-conferencing platforms skyrocketed.

Some members of campus had never used Zoom, the popular platform. But in April alone, the university logged 80,000 Zoom sessions—
surpassing all of 2019's total in a single month.

Chief Information Officer Sue Workman and her staff learned that remote learning yielded some positive outcomes, including allowing faculty members with large classes to better see students and connect names with faces.

In addition, some students more easily contributed to class discussion through the Zoom chat feature than they had done in person, she said.

"It's exciting for faculty members to hear from students who in the past may have been reluctant to contribute," said Tina Deveny Oestreich, PhD, senior director of Teaching and Learning Technologies.

—12,073 active Zoom users

—182,833 Zoom meetings

—1.2 million participants in Zoom meetings

—65 million minutes spent on Zoom

*March-June 2020
Shifting courses
Like most of the university's roughly 6,200 graduate and professional students, Wynia and her classmates lived off campus. But for the vast majority of its 5,400 undergraduates, Case Western Reserve's transition to remote operations involved far more than a move to online learning—they also had to move home.
While university staff collected and shipped urgently needed items like textbooks, scientific calculators and class notes, students had to establish workspaces, identify adequate Internet connections, and adapt to staring at a screen for several hours every day.
Back in Cleveland, University Technology staff worked with professors to prepare for online instruction, quickly reviewing the basics and options of Zoom while also providing information about teaching approaches best suited to engaging students on their computers. But staff had no easy answers for addressing the time zone challenges of students from all 50 states and 94 countries.
Rebecca Benard's Development and Physiology course, for example, included enrollment from across the United States—including Hawaii—as well as countries such as Qatar, China, Vietnam and South Korea.
"I had to wrap my head around it," said Benard, PhD, a senior biology instructor, describing the transition as "a whirlwind."
She adapted the course so students could attend live collaborative work sessions on Zoom or watch recordings. She also placed a heavy emphasis on providing independent and group work, to meet the needs of her students and their schedules.
Benard noted she had to "really think about course objectives, what my students wanted to get out of class, and make adjustments."
Our new (mixed) reality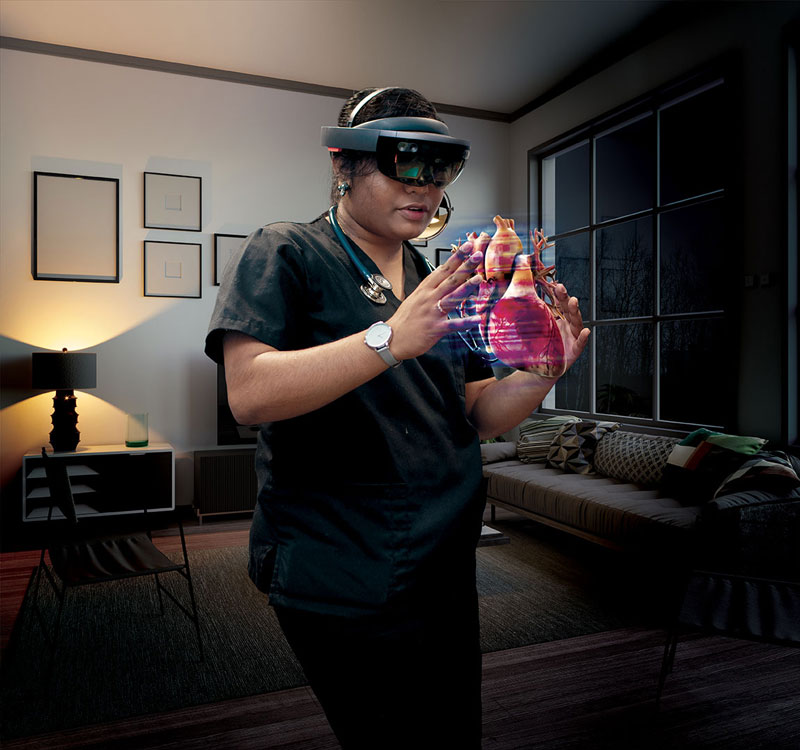 A few years ago, such a quick shift to remotely learning would have made a traditional cadaver-based anatomy class nearly impossible. But in 2016, the university piloted a HoloAnatomy curriculum, which uses Microsoft HoloLens mixed-reality devices to allow students to see digital representations of male and female anatomy, superimposed on the user's world.
When the 2019–20 academic year began, the entire first-year medical school class participated, gathering regularly in a large classroom in the new Health Education Campus—until the move to remote instruction.
Program leaders knew they could deliver the course remotely; with HoloLens headsets, students still would be able to see inside the human body—virtually—from anywhere in the world.
Except the university did not have enough devices for each of the 185 students taking the course.
Radiology professor Mark Griswold, PhD, faculty leader of the
HoloAnatomy project, worked with Microsoft to secure the technology, then his team uploaded the proprietary software to each device and shipped them to students across the United States and Canada.
Associate Professor of Anatomy Susan Wish-Baratz called the shift a "seamless transition." Students examined anatomy from their location and interacted with Wish-Baratz on Zoom, from her home office in Cleveland.
Using HoloAnatomy remotely was "the best of both worlds because we had the body to ourselves, in a way, but we also had Dr. Wish-Baratz there to describe it," said student Kevin Zhai. "Standing in my own apartment, I could peer into the body cavities and spend as much time in there as I wanted."
Hands-on Experience from a Distance

As students adapted to virtual learning in new environments, they also had to face another reality: Their plans for a resume-building summer of jobs and internships would need to change drastically.

Michael Goldberg, executive director of the Veale Institute for Entrepreneurship and associate professor of design and innovation, learned that the cancellation of hands-on experiences was prevalent. In partnership with Post-Graduate Planning and Experiential Education, the Veale Institute created the Remote Entrepreneurship Project Program.

"The more students we spoke with, the more we realized their summer plans were almost nonexistent," Goldberg said. "We really wanted to find a way to quickly make their summer months worthwhile."

Goldberg reached out to alumni, and the response was overwhelming: They quickly placed more than 110 students in internships with Cleveland-based or alumni-led startups.

"We have always worked virtually as a company," said Arnold Huffman (CWR '93), CEO and founder of marketing media company Digital Yalo and president of The Alumni Association board. "So when these bright, talented students became available due to the pandemic, we were very comfortable and ready to bring them into our team right away."
Expanding virtual education
While some courses, such as anatomy, shifted to remote learning relatively easily, some were actually enhanced by the move.
When alumnus Rich Sommer (GRS '04, theater) learned of the move to remote learning, he quickly recalled his days as a student. The actor from Mad Men and Glow imagined how anxious he would feel had the pandemic had struck in his final semester—when Master of Fine Arts in Theater students perform in a New York City showcase for producers, directors and casting agents.
In an instant, their best chance to gain industry representation was gone.
"To be ending your schooling and starting your artistic career in the midst of an international health crisis, when there's even less of a guarantee of work than usual, must be terrifying," he said this spring.
Soon after, he was meeting with students via Zoom, answering questions about auditions, agents, the industry and his own performances. Later in the semester, Tony Award nominee Elizabeth Davis (GRS, '06, theater) joined the acting students online, while Craigslist founder Craig Newmark (CIT '75; GRS '77, computer science) participated in a computer programming class. For alumni and others, providing support and career insight became infinitely easier—they just needed to connect online.
But when it came to guest speakers, few classes could top Michael Goldberg's Entrepreneurial Strategy course. An associate professor of design and innovation in Weatherhead School of Management, Goldberg had already launched an in-person speaker series through his role as inaugural executive director of the Veale Institute for Entrepreneurship. But with remote events suddenly the norm, he quickly expanded his invitation list.
Between mid-March and the end of the semester, more than two dozen leaders joined the class—"visits" that Goldberg also offered to the public via Facebook. Drawn from university graduates and his own networks, the speakers included alumni founders of Scout RFP, which this year sold to Workday for $540 million, the vice president of strategy and global development at the Walt Disney Co., the director of product for Slack, and the creator of the hit Netflix series Outer Banks. Plus, students served as moderators for every session.
"[The new format is] good for students, it's good for our speakers," Goldberg said. "They love interacting with our students. I think there's no turning back from getting speakers remotely."
Addressing the challenges of change
Still, for the opportunities the transition allowed, the semester represented a huge departure from expectations.
Faculty, staff and students alike had to juggle family and university responsibilities, technological challenges, and fundamental differences between in-person and online courses.
Team-based, small-group learning is an essential part of the first two years of MD students' coursework. Throughout the year, students study together and lean on each other for support; they regularly have group dinners together.
"It was a big learning curve," rising second-year student Mitchell Thom said.
Other students faced their own challenges. Hands-on labs sometimes turned into quiz-based courses. Performance-based classes moved to FaceTime. Students needed additional financial support to get the technology necessary to complete assignments. And, for some, learning took place in their family's dining room, surrounded by siblings or parents.
"My mother recently had to proctor my physiology exam," Mike
Komarovsky, a rising fourth-year physiology student, said with a laugh during a student panel. "So add it on top of the stress of worrying about doing well, I also had to not disappoint my mother, who was looking over my shoulder."
Testing. Testing?

The pandemic required changes to testing policies in classes across the university, with faculty using online proctoring and other efforts to ensure academic integrity.

The spring also saw a change in testing for prospective students: In mid-March, Case Western Reserve became among the first universities in the country to announce the adoption of a "test-optional" admissions policy for undergraduates entering in the fall of 2021.

Given uncertainty around when ACT/SAT testing would resume, Richard Bischoff, vice president for enrollment management, advocated for the change to alleviate stressors on prospective students, parents and counselors.

"Testing has always been just one factor in our evaluation of applications, and we are confident that we will continue to make quality admission decisions for those students who are either unable to test or who choose not to submit test scores," Bischoff said.

The proposal was quickly approved by President Barbara R. Snyder and Provost Ben Vinson III before going to faculty leaders; in the Faculty Senate, it received unanimous approval.

"Test score or no test score," said Peter Shulman, associate professor of history and chair of the Faculty Senate Committee on Undergraduate Education, "we look forward to meeting the class of 2025."
Preparing for the future
Nearly a month before the semester ended, officials announced preliminary plans for fall instruction. Since some students—in particular, those international students living abroad—might be unable to get to campus, the university would work to have classes delivered both in person and remotely. As planning progressed, it became clear that some select courses could not translate effectively online, so the approach changed to encouraging dual delivery whenever possible.
Until the spring, most faculty had taught only in person; now, they have to figure out how to do both.
"There are distinct differences between teaching courses in-person and online—and developing instructional strategies to promote student engagement and success for each simultaneously is a challenge," said Tina Deveny Oestreich, PhD, senior director of Teaching and Learning Technologies. "It is exciting to see how our faculty are meeting the challenge of providing our students with the high-quality
education they expect from CWRU."
To prepare for this new approach, Oestreich's team, along with the University Center for Innovation in Teaching and Education, organized a six-week summer program to help professors explore new course designs and instructional techniques. More than 200 faculty took part.
Meanwhile, university administrators have collaborated with health and emergency management experts to determine classroom and lecture hall capacities consistent with physical distancing requirements. Facilities teams have developed new protocols for cleaning and air filtration to reduce infection risks, as well as Plexiglas dividers for lecterns and counters.
"The classroom experience will look visibly different," Megan Koeth, director of resiliency in the Division of Public Safety, said, citing requirements such as 6 feet between student seats in lecture halls and wearing masks indoors. "But teams across the university have come together to help create a safer environment for students, faculty and staff."
The pandemic has changed the way learning and teaching can, and will, look in the future. Zoom classes can happen when needed. Engaging discussions can occur in online chats. In-person meetings can be supplanted by virtual. And even remote exams, with proper proctoring, can be effective.
The flexibility of remote learning provides more options for students from diverse backgrounds to be able to obtain a Case Western Reserve education, faculty and students said.
Students "learn in different ways and they have different responsibilities. Some have jobs or they are caregivers," biology's Benard said. "The demographics of students in college are changing."
This semester has helped Case Western Reserve adapt to those changes—and others yet to come.
---
Change of Course
In end-of-semester course evaluations across more than 1,300 undergraduate and graduate classes, the average student assessment of whether they continued learning effectively during this time was 4.18.
When asked if they could effectively engage with their instructor during this time, the average response was 4.27.
87% of students either agreed or strongly agreed that instructors did their best to adapt
64% agreed or strongly agreed that instructors' availability and responsiveness during remote education was about the same as earlier in the semester
75% agreed or strongly agreed that they were confident they had completed their courses successfully
72% increase in undergraduates taking summer courses
49% increase in undergraduate summer classes offered
148 new undergraduate summer courses
238 more summer classes across all levels
---
This article was originally published July 28, 2020.