"Nothing could quite prepare you for being on the front lines of a pandemic in the hot spot of the U.S."
This article first appeared in a summer publication related to the university's response to the COVID-19 pandemic. More articles will appear in The Daily and on the university and school social media accounts in upcoming weeks; visit case.edu/together to see more.
Across the country—and around the world—nearly every aspect of life has been impacted by the pandemic, including how and where we work and volunteer. Case Western Reserve University alumni have been on the front lines in hospitals, clinics, health departments, social-service agencies and more. But their work in other areas—such as churches, fire stations and funeral homes—also has been greatly impacted. Read just a few of the ways our alumni made a difference in the early weeks of the pandemic, in their communities and beyond.
Helping patients off ventilators
As coronavirus cases spread, a much-feared shortage of ventilators quickly became reality in cities that were hotspots for the disease. A Case Western Reserve alumni-founded company stepped up to reduce the burden on hospitals. Led by Anthony Ignagni (CIT '83; GRS '89, biomedical engineering), Moustapha Diop (GRS '99, operations research) and Tim Crish (CIT '80; GRS '86, electrical engineering and applied physics), the team at Synapse Biomedical Inc. created the TransAeris Diaphragmatic Pacing system, partnering with their alma mater and University Hospitals to gain emergency Federal Drug Administration (FDA) approval. The system uses small electrical currents to stimulate patients' diaphragms, helping wean coronavirus patients off of ventilators and potentially cutting mechanical ventilation time by more than 25%.
Midwifery during the pandemic
After the coronavirus invaded two funerals in Albany, Georgia, around late February, it overran the city, resulting in sickness, hospitalization, deaths—and national attention. "To be in a place that has been defined as a national hot spot is overwhelming, particularly when you consider Albany as a small rural community not known by many," said Elois Edge (NUR '03). She knew someone who became critically ill after attending one of the funerals. Four members of her extended family died from COVID-19, as have people in her broader community of friends, past teachers and former coworkers. "The virus has saturated our Black community in particular," she said. At the Mirian Worthy Women's Health Center, where Edge works as a nurse-midwife, only one visitor can attend a delivery, all women in labor are tested for COVID-19 upon admission, and there's "no more sitting at the woman's side for extended periods of time supporting, touching, coaching, and loving her during childbirth without barriers of masks, gloves and rules." But she believes that doing midwifery in the midst of a pandemic "is like an ongoing purpose of service within the soul."
Mathematically modeling costs
When Covered California, the state's insurance marketplace, analyzed the potential financial costs of the coronavirus, its chief actuary John Bertko (CIT '71) led the mathematical modeling and prepared the policy brief. Published in March, the brief was picked up by media outlets, including The New York Times. Among the key findings: The one-year projected costs that insurers, employers and individuals could face for COVID-19 related testing, treatment and care could range from $34 billion to $251 billion. And, the report noted, without decisive federal action, the public health and economic consequences could be staggering. Other analysts subsequently published similar findings, while public-health experts warned about looming infections and deaths—all contributing to shelter-in-place rules around the country that helped the nation avoid the worst of the projections. "While we still must remain vigilant, 'good behavior' by the general public has had an effect mitigating the COVID-19 virus effects and changed what our earlier projections assumed would happen," Bertko said.
3D printing for emergency manufacturing
In early May, Massachusetts-based Formlabs announced it was the first 3D-printing manufacturer to receive emergency-use authorization from the FDA to print adaptors to convert machines used by people with sleep apnea into ventilators. It also is part of a multi-institution collaboration that created 3D-printed nasal swabs for COVID-19 testing. These efforts are personal for John Boyle (CWR '98; GRS '01, '03, macromolecular science), a lead on Formlabs' materials science team. "My wife, Dr. Tehnaz Parakh [GRS '06, pharmacology; MED '08] is currently an emergency room doctor in Boston," he explained. "My friends and family are on the front lines of this on a daily basis." Boyle said his group's initiatives include seeking expedited FDA approval to use several of its resins to produce testing supplies, medical equipment and personal protective equipment. His colleague, Ammar Patel (GRS '20, macromolecular science), volunteered his polymer science know-how as colleagues developed medical-device materials. Throughout the pandemic, Patel said, it has been incredible to see so many "volunteering their respective expertise to identify problems where Formlabs could help, come up with potential solutions, design models, run initial prints, approach hospitals, get approvals and set up mass-printing facilities."
Boosting statewide testing and safety
In North Dakota's war against the spread of the coronavirus, Mylynn Tufte (NUR '95)—who led the state's Department of Health until late May—worked 12-plus-hour days as the public health leader within the Unified Command Structure of the Statewide Emergency Operations Center. In mid-May, Politico said the state was third in the nation in testing. "Rapidly increasing our testing capacity has had the most impact in our ability to identify outbreaks and protect our most vulnerable citizens," said Tufte, a former critical care nurse. Also impactful was the state's focus on providing timely and accurate information, which Tufte said "helped us prepare, not panic." But, she noted, challenges remain, especially as the virus amplified health disparities in North Dakota and across the country.
Cross-discipline training
Garrison Copeland (DEN '13) was the chief dental resident at the Bronxcare Health System in New York when several physicians in one medicine department became ill, and volunteers were needed to provide bedside care or telemedicine services. "I was one of the three who chose to be in direct contact with COVID patients," Copeland said. His duties included administering COVID-19 tests to newly admitted patients, taking vital signs, helping place IVs in veins and picking up patient medications, including one he paid for himself. In the two weeks before the physicians returned, he saw patients successfully treated; he also watched a man die. "I was completely out of my element, but the driving force behind my actions was to help in any way I could," he said. Copeland's most challenging experience: telling his family he volunteered. "My mother immediately broke into tears, but was immensely proud," he said. "When [so much of] the world was running away from the virus, I ran toward it."
Art classes go online
Denyse Carbonell (GRS '95, art education), founder of Artist at Heart (ArtistAtHeart.org) used to take her traveling art parties to various locations for corporate team-building and private events. "Once COVID-19 hit, all of my jobs were canceled," said Carbonell. So she pivoted: Carbonell began offering a free daily online art class, and saw her Facebook following grow from 1,900 to 27,000, as people from around the world joined her sessions via Facebook and YouTube, sometimes coming on screen to share their work. She also started offering private Zoom parties to bring in revenue. Though Carbonell originally planned to offer the free classes for only a week as school buildings began to close, she continued as she reached more and more people of every age and ability.
Continuing care for children
Just before it temporarily closed in mid-March, Cleveland's Providence House crisis nursery had 13 young children in its care. "Our social workers quickly worked with families to identify how we could safely discharge each child," said Annette Iwamoto (SAS '12), strategic initiatives manager for the nonprofit shelter. Nearly all families were reunited, staying either in their own housing or with others temporarily. Throughout the pandemic, the agency's social workers have provided support by phone and delivered food, diapers, formula, soap and hand sanitizer so families can avoid taking public transportation to grocery stores. As Providence House prepares to reopen, Iwamoto expects a huge increase in inquiries, as "families who were previously just getting by may find themselves in crisis or struggling to manage the anxiety and stress of caring for young children during the pandemic," she said. "The onus is on us to determine how we can offer our crisis nursery and other supportive services in as safe a manner as possible to help prevent child abuse and neglect."
Adapting funeral operations
When Crystal Jardine (MGT '99) meets with people suffering terrible grief, she no longer reaches out with an instinctive handshake or hug. It's part of the "new normal" for Jardine, a funeral director who co-owns multiple funeral homes and a cremation service in Northeast Ohio. While her homes haven't been overwhelmed with COVID-19 related deaths, her business has changed drastically—from the precautionary measures her employees must take to, most significantly, how funerals operate. Visitations are few and sparsely attended. Smaller numbers of people attend services or processions to the cemetery. Those who do attend try to abide by the 10-people-at-a-gathering rule and stay 6 feet apart. "The risk of spreading COVID-19 has prevented families from grieving like they would normally, and that is concerning to me," Jardine said. "We just want to ensure that families are able to receive the closure they need from the funeral service."
Helping a theater forge ahead
Tom Parrish (CWR '01) has spent his career leading nonprofit theaters out of organizational and fiscal crises. That's one way of saying Parrish—executive director of Trinity Repertory Co. in Providence, Rhode Island—was well-suited for this moment. On March 12, the city revoked entertainment licenses until further notice, and Trinity Rep went dark. Three days later, the theater canceled the rest of its season. It used the federal Paycheck Protection Program to keep year-round staff employed, and more than half of ticket holders donated their tickets. Trinity is offering classes and other content online and through social media; developing scenarios for the upcoming year; and collecting stories from the community to be used in a future event. "There are two types of charities: those that save lives and those that remind us why life is worth saving," Parrish said. "When the time comes for the stage lights to turn on again, we will be there ready to remind everyone what this sacrifice was for."
Advocating for a healthy election system
On April 7, Wisconsin voters who hadn't received a ballot by mail made a choice that Carrie Davis (LAW '03) said no citizen should ever face: risk exposure to COVID-19 by voting in person, or not vote. "We have [only] months to get our election plans together to ensure those problems [and others] do not happen on a broader scale in November," said Davis, who directs the Joyce Foundation's Democracy Program in Chicago. She's particularly worried that the pandemic coincides with the general election and 2020 census, which both demand enormous amounts of planning and testing. Davis said a successful election will require officials prepared for heavy use of voting by mail; in-person voting that's accessible and includes pandemic-related safety measures; and clear communications to voters about voting options and protective protocols. For the census, she said adaptability will be critical as the U.S. Census Bureau resumes field operations and outside groups shift from in-person outreach as they work to ensure accurate data is collected. "A lot is at stake," Davis said.
Documenting this historic time
The Western Reserve Historical Society in University Circle is documenting the pandemic experience in Cleveland, collecting oral histories, images, documents and artifacts. Patricia Edmonson (CWR '06), the Museum Advisory Council curator of costume and textiles, is collecting a variety of masks and the stories behind them. She's also considering how fashion changes when people are stuck at home and how people turn to crafts as a coping mechanism. Collecting in the midst of the period being chronicled provides the opportunity to preserve compelling objects that might otherwise be discarded. "Who thinks that a museum might want their mask or journal or embroidered picture?" Edmonson said. "But documenting [the lives of] the average person can be so powerful and will help future museum-goers connect with the past in a tangible and emotional way."
Spiritual support goes virtual
In the past, The Unitarian Universalist Church of Arlington in Virginia ended its weekly service with a benediction as people held hands or touched the shoulder of a neighbor. "We know that, for some people, that may be the only time they touch another person each week," said Sarah Masters (MNO '95), director of congregational life. On March 15, the church closed its doors and moved to online services—and felt the financial impact, as donations from the collection plate fell to about 25 percent of normal levels and it received federal Payroll Protection Program funds to maintain staffing. While congregants miss the communal feeling of in-person services, people who moved away are reconnecting and participating online. About 70 congregants are making weekly check-in calls to other congregant households. And the annual youth-led service became more creative when it was pre-recorded and shown online. "I've always said the church is not the building; it is the community," Masters said. "This experience has illustrated that."
Supporting a live-in at a factory for PPE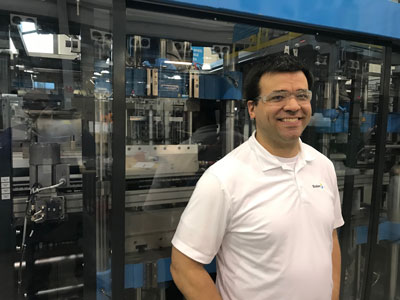 Starting in late March, 43 employees worked and slept at a Braskem America plant in Pennsylvania for 28 days without leaving. They produced tens of millions of pounds of raw materials for face masks and surgical gowns—all volunteering for the "live-in," The Washington Post reported, to be sure nobody got the virus outside the plant. Another Braskem plant followed with a second live-in as they sought to meet soaring demand for their key product, polypropylene, a thermoplastic polymer. Meanwhile, Joel Carr (GRS '13, macromolecular science) worked with his Braskem team in Pittsburgh to support the factories. "Knowing that we are making products that go into these applications that keep health care workers safe is really empowering," said Carr, Braskem's U.S. product team leader. Braskem also shifted products between factories in order to meet the sharp increases in demand. That move "is not trivial," Carr said, adding that his team helped ensure "the products have the same polymer architecture and balance of properties" to meet application needs and customer expectations.
Providing care
Noa Hockstein (CWR '18) was a registered nurse in a Medical Intensive Care Unit (MICU) at Cleveland Clinic main campus when the pandemic began. When the Clinic created a dedicated COVID-19 MICU, Hockstein began rotating in—initially "really scared" but determined to do her job. "I've reached a point of acceptance that I'm working directly with people with COVID, and that increases my chances of exposure," she said. More difficult to accept is the pandemic's toll on others. Because families can't visit MICU patients, Hockstein organizes virtual visits via FaceTime or other platforms. "It's always hard," she said, but even harder is when patients are intubated or sedated and can't communicate. While the suffering stays with her, so do the uplifting stories—including that of one of the first COVID-19 patients at the Clinic, who left a hand-written thank-you note on a glass wall of his MICU room before being discharged. "He," Hockstein said, "was a success story."
Fighting fires—and COVID-19
Doston Jones (LAW '08) left a high-powered international law firm to fulfill a longtime dream of becoming a firefighter. "I feel honored and privileged" to be a first responder during these times, he said, even after contracting COVID-19 in mid-April. While his case was "extremely mild," it still left Jones uneasy. "As a firefighter-medic, you become psychologically accustomed to accepting the risks you encounter yourself while on the job—but when your job suddenly involves an element of safety risk to your loved ones, then that brings about an entirely different psychological burden," he said. Jones, who works in Cleveland, noted that he doesn't feel any less safe than old law colleagues who worked from home during the shutdown. "In a sense, we're all on the front lines these days, regardless of profession, as this virus is becoming increasingly ubiquitous and is not a respecter of persons."
Nonprofit's efforts continue
Recovery Resources, a Cleveland-based nonprofit, remained partially open as the coronavirus spread, providing a range of services for people struggling with addiction and/or mental-health issues. For Pam Gill (GRS '99, bioethics), Recovery Resources' president and CEO, the list of concerns for clients is long and heartrending, such as: "How do we make sure they can access our services? How can we assure their safety and good health when they are already challenged with basics? What about our clients who are homeless or live at the shelters?" The difficulties are many—especially for those facing food insecurity, lacking adequate Wi-Fi or other technology to receive services remotely, or in recovery for alcoholism and needing support. Yet Gill is strengthened by the kindness of employees who continued to serve; the work of her leadership team, which implemented large scale strategic plans in just weeks; the generosity of board members who provided meals for employees and community members who provided personal protective equipment for clients; and "the sheer joy and gratitude expressed by our clients when we have delivered food or supplies."
Health care at the epicenter
During his general practice dental residency program at Brookdale University Hospital Medical Center in his hometown of Brooklyn, New York, Itamar Carter (DEN '19) was shifted to COVID-19-related care. "The ICU was at capacity, patient beds lined the hallways of the emergency department, different spaces in the hospital were repurposed to increase the number of beds," Carter said, adding that he had been testing patients, "mostly symptomatic employees, every afternoon in urgent care since the beginning of March." As a dental resident in a hospital-based program, he'd already experienced working in the ER. "But still, nothing could quite prepare you for being on the front lines of a pandemic in the hot spot of the U.S. seeing colleagues around you out sick, the sheer number of patients to manage, an overflowing morgue, witnessing many lives lost." Carter also had the reward of seeing people reunited with their families. "It was really exciting to see some of the first COVID patients from the ICU be discharged," he said. "There was a whole parade of hospital staff cheering for them as they left."
Adjusting dental care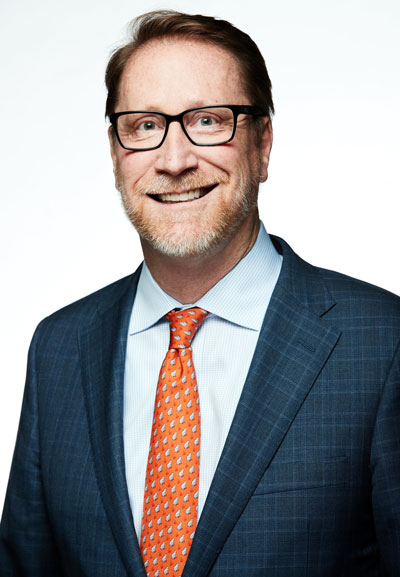 After the coronavirus was first identified in China, Ed Shellard (DEN '87), chief dental officer for Carestream Dental, an Atlanta-based maker of dental imaging equipment and software, quickly began working on several fronts: He helped the Dental Trade Alliance develop an awareness campaign for member companies, dentists and patients; collaborated on an initiative to provide teledentistry options to Carestream Dental customers; and worked with Carestream's in-house teams to create products customers needed, such as barriers, sleeves, disposable tips for scanners that go inside the mouth, and modifications to software products to help dental offices remotely communicate with patients. Shellard said he's been moved by the resiliency and determination of practitioners to get back to work. "They understand the risks but are extremely focused on meeting their patients' needs," he said.
Leading a congregation
When the All Saints' Episcopal Church in Cayce, South Carolina, closed its doors by diocesan mandate in March, the rector, Rev. Patricia Sexton (LAW '76) began sending her congregants her weekly sermons and scripture readings—emailing about 100 congregants who have internet access and using snail mail for the 11 who don't. Now, on Sundays, she and many other congregants join virtual worship services at the Washington National Cathedral or the local cathedral in Columbia. Some congregants have friends who died from COVID-19 and need support, which has been more challenging to provide via phone. It's also difficult, she said, not to visit people in hospitals or nursing homes. Sexton calls a few congregants each day, cycling through her list, and reaches out to anyone living alone more often. "It's been hard for everybody that we don't gather for worship and fellowship," she said. "The social interaction is really important for a lot of my elders who are on their own."
Innovation amid challenge
Tom Marxen (DEN '83) caught an early glimpse of the impact of the coronavirus through his wife, Victoria, a geriatric internist at a hospital in Kirkland, Washington, that was among the first in the United States to admit a patient with COVID-19. Marxen, owner of Advanced Care Dentistry outside Seattle, closed his office for routine visits in mid-March before the state or dental associations issued any shutdown mandates or recommendations, but still provided emergency care. Because Marxen already had full-face respirators for himself and his clinical team, he "really had no fear" during emergency procedures. And as he reopened his office, Marxen worked with this staff to establish new protocols and install equipment, including a vacuum system for hygienists to remove fine particles or liquid droplets patients might emit. "I love the challenge of having to reboot my practice, and think about and create innovative concepts specific to my practice and building for keeping my patients and team healthy," he said.
PreVent-ing the spread
JT Tan (CWR '06, GRS '12, biology) felt compelled to help limit the spread of the coronavirus. So he began working with two fellow alumni—G (Ji) Kim (MGT '12) and Kate Hart (CWR '14)—and with Cleveland-area clinicians and members of the local entrepreneurial ecosystem to develop a prototype for a portable personal negative pressure enclosure called PreVent. It is meant to keep particulates such as viral droplets contained and filtered from the surrounding air and room surfaces. He and his team envision that the device—which is being tested with hard, clear and disposable plastic—would comfortably enclose a person's head and neck like a fume hood for ventilation and could be used in various situations. Hospice care is the team's first target, but it also is contemplated for people with COVID-19 sheltering at home with family, living in senior housing, or being cared for in hospitals that lack sufficient containment options. "PreVent's biggest impact is limiting the high cost of social distancing," said Tan, "re-enabling safe family visitations."
—Sandra Livingston
---
This article was originally published July 23, 2020.