Help Case Western Reserve University's international students feel welcome in Cleveland. The university's International Friendship Program helps international students transition to life in the U.S., offers hosts the unique opportunity to learn about diverse nationalities and cultures, and serves as a springboard for friendships that last beyond a student's time at CWRU.
Each year faculty, staff and alumni hosts are matched with international students. Hosts and students get together to enjoy home-cooked meals, events on campus and outings in Cleveland.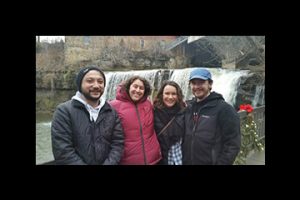 Lisa Kollins, Social Justice Institute administrator, and her family hosted Sahin Kirdim (LAW '16) through the program.
"Our family's connection with Sahin, our international friend from Turkey, has proved to be a highlight of the year," Kollins said. "We shared meals, introduced him to some of our favorite sports in Cleveland, included him in extended family events and looked forward to each time we spent together. Learning about his Turkish culture and perspective was illuminating and reinforced our belief in and the importance of cross-cultural relationships."
With many international students starting at CWRU this fall, faculty and staff are encouraged to consider welcoming one of them to Cleveland.
Hosts will be matched with international students in August and September.
For more information and to apply, visit students.case.edu/international/information/current/friendship/.