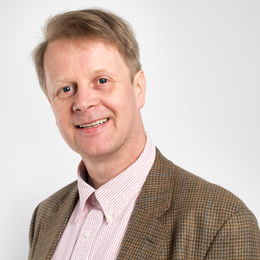 Kalle Lyytinen, associate dean for research at the Weatherhead School of Management and an expert widely known for his work to digitally transform organizations, has earned the prestigious 2013 LEO Award for Lifetime Exceptional Achievement in Information Systems, the top honor from the Association for Information Systems (AIS).
Established in 1999, the LEO Award was named for one of the world's first commercial applications of computing (Lyons Electronic Office). LEO Award winners may be academics or practitioners, but are always innovators. The presentation to Lyytinen was made during the 2013 International Conference on Information Systems in Milan, Italy, Dec. 15-18.
"Not only is Kalle recognized as a top scholar in his field, but he's also an outstanding researcher and leader," said Robert E. Widing, dean and the Albert J. Weatherhead III Professor of Management at the Weatherhead School of Management. "He serves as our associate dean for inaugural research, leads our Doctor of Management Program—which is recognized worldwide—and is simply a superb colleague and leader for the school."
Lyytinen is the Iris S. Wolstein Professor in Management Design in the Weatherhead School's new Department of Design & Innovation. His projects have focused on engineering practices, telecommunications and software development organizations. He's studied how information technologies are formed and new ways to determine system requirements.
"The first recipient of LEO Award in 1999 was C. West Churchman, the grand figure of operations research and one of the founders of the field of information systems," Lyytinen said. "West worked at CWRU in the mid-1960s and created the first operations research PhD in the world. Being the recipient of the same award is a great and still inconceivable honor, which has truly humbled me. It is also testimony to the strong support and intellectual stimulus I have enjoyed while working with my colleagues."
Three Case Western Reserve alumni—M. Lynne Markus (2008), William R. King (2004) and Jay F. Nunamaker (2003)—are previous LEO Award winners. Lyytinen is the first Weatherhead School faculty member to receive the award.
Also, Weatherhead School Professor of Design & Innovation Richard J. Boland Jr., the Elizabeth M. and William C. Treuhaft Professor of Management, was honored at the same December meeting with an AIS Fellow Award. The Fellow Award, which was also established in 1999, recognizes individuals who have made outstanding research, teaching and/or service contributions to the field of information systems.
Senior Associate Dean and Professor of Information Systems Fred Collopy, a Lyytinen colleague in the Department of Design & Innovation, said Lyytinen is considered among the most influential of more than 4,000 information systems researchers in the world.
"His ability to align deeply technical understandings and considerations with human and organizational matters constitutes a rare combination," Collopy said.
Lyytinen's creativity, for example, was evident in National Science Foundation-funded research in which his team applied DNA sequencing techniques to the study of design, Collopy said. That work captured a Best Conference Paper award at the 2011 International Conference of Information Systems.