Jonathan Arms had an insatiable thirst for knowledge. When he was 9, he asked his mom to purchase Minecraft—not so he could play it, like other kids his age, but so he could use it to teach himself programming. He taught himself Russian in high school—a language he continued studying as a Case Western Reserve University undergraduate student. And when his high school didn't offer the Advanced Placement classes he was interested in, he studied them on his own to prepare for the test.

This week, the Case Western Reserve community is mourning the loss of Arms, a second-year physics major who passed away last week. He was 19.

Arms arrived on campus in the fall of 2018 after a gap year following graduation from high school (which he achieved a year early). Soon after arriving on campus, Arms got involved with Phi Kappa Theta, where he built connections with his brothers.

Tommy Cui, another member of Phi Kappa Theta, considered Arms his closest friend. And his fondest memories include when Arms and another student showed up at his door to become an associate member of the fraternity. The two became study and training buddies. Whenever Arms passed the study room, if Cui was there, he'd always stop to talk. And if he wasn't, he'd send a text to his friend, surprised that he wasn't. Even if the two got in an argument, they'd quickly move on; once Cui lost his ID the next day and Arms was right there beside him looking for it.

"The sense of brotherhood meant everything to him," his mother, Karen, noted.

As did his passion for learning. The books filling Arms's Pennsylvania home and his room at the Phi Kappa Theta House help tell his story. He was an avid reader who always wanted to learn more, his mom said.

"Everything that ever came across his mind, he had to research it," Karen Arms said.

And he wanted to use his knowledge of physics to make a positive change in the world. His desire to make an impact was sparked by his upbringing. Having spent time growing up around labor unions (his mom was a union representative) at meetings, rallies and more, Arms developed a strong passion for social justice and democracy.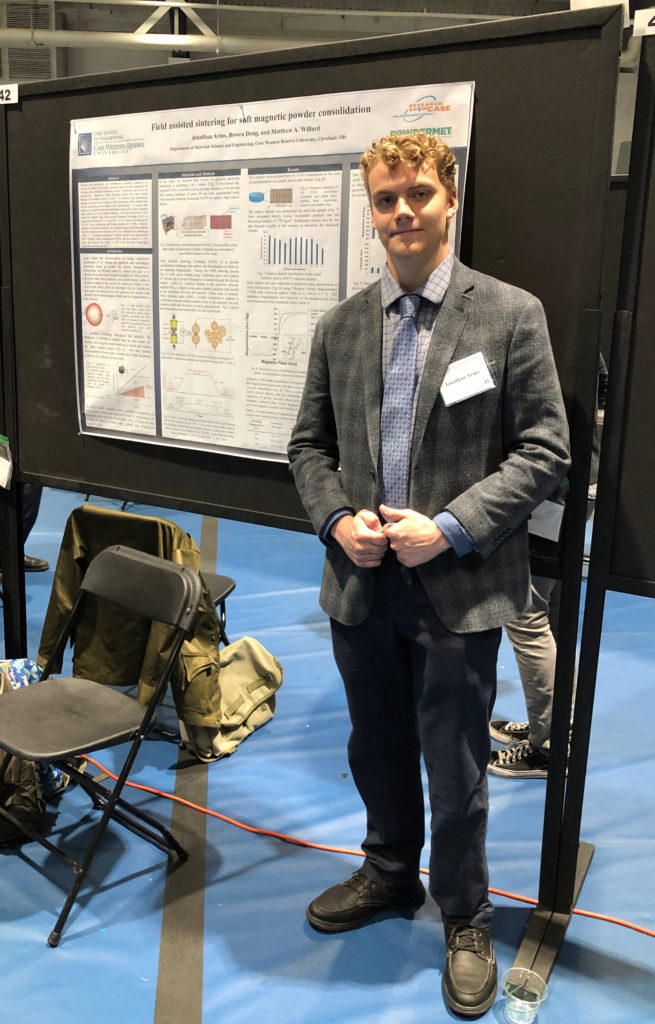 While Arms always took an abundance of classes, he maintained interests outside of his studies and time with his fraternity. Bolstered by his love for learning, Arms had a passion for history. He also enjoyed being outside, nature and hiking. Especially after the loss of his grandmother two years ago, Arms—who had a "kind, tender heart" and a quiet, reserved sense of humor, his mom said—placed increasing importance on building in-person relationships. Cui said he had "a big smile on his face most of the time."

And he loved his dog—a lot.

Arms wrestled most of his life, even making it to the state championship when he was 11. While he didn't continue wrestling at CWRU, he talked to his mom about launching a club team at the university. He also had considered starting a coral reef project at the university, as a follow-up on work he did in high school as part of a team of students who established a live coral reef.
A GoFundMe page was set up in Arms's honor to support the coral reef project at his high school alma mater. Give to the fund.
Students who would like support during this difficult time are encouraged to contact counseling services at 216.368.5872. This line is staffed by a counselor 24 hours a day, seven days a week. Students also can stop by Sears 220 during weekday business hours to meet with a counselor in person. Faculty and staff also can access counseling at any time by calling IMPACT Solutions at 1.800.227.6007; you can learn more about their programs at myimpactsolution.com.