To honor Veteran's Day and promote cooperation between the military and civilian health-care community, U.S. Army Surgeon General Lt. Gen. Nadja West will come to Case Western Reserve. She will present a keynote address, "Medical Leadership: Lessons from Military Medicine," Nov. 11, at 6 p.m., in the Kelvin and Eleanor Smith Foundation Ballroom of the Tinkham Veale University Center. Audience questions will follow her talk.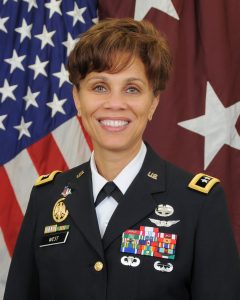 West will discuss what it takes to lead and develop leaders in today's health-care field, and how military and civilian health-care leaders can collaborate to address such current challenges as effectively and efficiently providing patient-centered integrated care and functional medicine.
The event, culminating a Veteran's Week of activities at Case Western Reserve, is free and open to the campus community, although online registration is required. Doors open at 5:30 p.m.
A Veteran's Day commemoration will precede West's remarks.
"Veteran's Day is a time to acknowledge and appreciate all military veterans, past and present, whose selfless service and devotion to preserving our nation's freedom and way of life can never be taken for granted," said Provost W. A. "Bud" Baeslack, who served more than 20 years in the U.S. Air Force before retiring as a reserve officer.
The U.S. Army Medical Department recruits and trains health-care providers to serve in its six branches:
Medical Corps,
Dental Corps,
Nurse Corps,
Veterinary Corps,
Medical Specialist Corps and
Medical Service Corps.
Providers care for service members, military families and Department of Defense civilians at home and abroad.
"The Army Medical Department is one of the largest and most comprehensive health care organizations in the world, and we need ambitious and innovative providers like those trained and practicing here in Cleveland to serve and maintain the overall wellness of our soldiers and their families," said Capt. Andrew Neubecker, officer in charge of Army medical recruiting in Cleveland and a Cleveland native.
While in Cleveland, West is scheduled to meet with leaders at Cleveland Clinic, Louis Stokes Cleveland VA Medical Center and University Hospitals Cleveland Medical Center. She also will tour Case Western Reserve's schools of nursing, dental medicine and medicine, and observe a demonstration of the Microsoft Hololens mixed-reality technology.
As part of West's visit, a U.S. Army Forward Surgical Team DRASH (Deployable Rapid Assembly Shelter) will stand from Nov. 7 to Nov. 10 in the Biomedical Research Building atrium.  The DRASH is a mobile medical facility that can be erected quickly and used to treat wounded soldiers in combat zones more quickly and conveniently.
West, the 44th surgeon general of the U.S. Army and commanding general of the Army's Medical Command, is the Army's first African-American female lieutenant general and the highest-ranking woman to graduate from the U.S. Military Academy.
West earned an engineering degree from the U.S. Military Academy and a doctorate of medicine from George Washington University School of Medicine in Washington, D.C. She completed her internship and residency in Family Medicine at Martin Army Hospital in Fort Benning, Georgia, during which she deployed to Operation Desert Shield and served during Desert Storm.
West later served as a staff family physician and then officer in charge of the Aviation Medicine Clinic at Blanchfield Army Hospital in Fort Campbell, Kentucky. She also participated in a medical mission with the 5th Special Forces Group (Airborne).
West has served as the surgeon general's deputy chief of staff, and was joint staff surgeon at the Pentagon, where she served as chief medical advisor to the chairman of the Joint Chiefs of Staff.