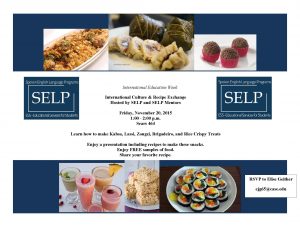 Join the Spoken English Language Partners for a presentation on authentic recipes to celebrate International Education Week.
The Culture and Recipe Exchange will be held Friday, Nov. 20, from 1 to 2 p.m. in Sears Building, Room 464.
Those who attend will have the chance to sample foods such as Lassis, Kabsa and Zongzi.
RSVP to Elise Geither, associate director for spoken English programs, at ejg65@case.edu.