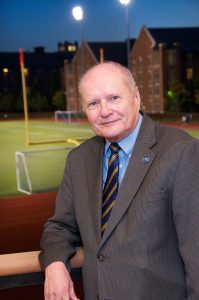 Case Western Reserve alumnus and trustee Jim Wyant is so quick to compliment and give others credit that some might overlook just how accomplished he is himself.
But this year, university supporter Trevor Jones helped ensure people got a powerful reminder of Wyant's extraordinary intellectual prowess—and impact.
Wyant, a world-renowned leader in optical science, this week was named a fellow of the National Academy of Inventors (NAI), a prestigious distinction accorded to individuals whose work has contributed positively to the country's quality of life, economic prospects, and society overall.
Jones, an accomplished innovator himself, became a fellow last year, and nominated Wyant for the honor this fall.
"Dr. Wyant exemplifies the fundamental achievements of bringing laboratory inventions to the marketplace in a most successful manner," Jones wrote in his nomination letter. "It is difficult to imagine an individual who better encompasses the goals and the mission of the National Academy of Inventors."
Wyant, a 1965 physics graduate of the Case Institute of Technology (CIT), helped found four companies, holds 10 patents himself or with others, and has authored more than 170 papers published in academic journals. His primary expertise is in the area interferometry—an exceptionally precise measurement approach that involves the use of waves, typically those of light. The products and devices he and his colleagues developed over the years have helped transform multiple industries, in particular those involved in magnetic device storage.
After receiving his bachelor's degree, Wyant earned his doctorate from the University of Rochester in just three years. He spent a few years working in the private sector before joining the University of Arizona's optical sciences department in 1974. There he began work to refine interferometry processes to provide increased accuracy. While Wyant and his team confronted their share of early frustrations, within a few years he began to think about forming a business to bring their concept to market. Founded in 1982, the WYKO corporation (using the first two letters of two of the founders' first names) ultimately dominated its industry, but not before Wyant had to pull back his efforts on campus to become the company's president in 1984. Wyant led the company through until its sale in 1997. While Wyant and his colleagues regularly logged remarkable numbers of hours in seven-day weeks, he looks back on the time with enormous fondness.
"For me, this was an unbelievable experience," Wyant wrote in a book chapter about WYKO, "that was more fun than I ever dreamed anything could be."
When Wyant returned to academia full-time, University of Arizona's leaders quickly recognized they had both a brilliant scientist and seasoned executive in their midst. Within two years he was tapped to lead what was then a center for optical sciences at Arizona; when the university moved to create a School of Optical Sciences, he became its founding dean, a role he held from 2007 to 2012. In addition to multiple honors from optical science organizations, Wyant also won election to the National Academy of Engineering in 2007.
"Jim Wyant's accomplishments as an educator, scholar and inventor are extraordinary," President Barbara R. Snyder said, "as is his commitment to helping others realize their own potential for innovation. I am delighted he has received this well-deserved honor."
In addition to Wyant's service on Case Western Reserve's board of trustees, Wyant also has demonstrated exceptional philanthropic support for his alma mater. Starting with the dedication of the Bob Sudeck track in honor of his legendary undergraduate running coach, Wyant has gone on to make multimillion-dollar commitments to the Wyant Athletic and Wellness Center in the Village at 115, a proposed fieldhouse adjacent to the center, and Sears think[ box ]. As chair of the trustees' research and technology transfer committee, Wyant contributes in additional ways.
"His expertise and real-world experience as a successful inventor and accomplished entrepreneur make him an invaluable and trusted adviser," wrote Vice President for Research and Technology Management Suzanne Rivera in her letter in support of Wyant's NAI nomination.
Also named as a NAI fellow this year is Cleveland Clinic President and CEO Toby Cosgrove, who holds a medical school faculty appointment at Case Western Reserve. Wyant, Cosgrove and this year's other fellows will be inducted during an April ceremony that is part of the NAI's annual conference.