As a seven-time Emmy Award-winning commercial broadcaster, William F. Baker helped launch such household names as Oprah Winfrey, presided over New York Public Television's heyday as the nation's pre-eminent producer of arts, nature, biography and public-affairs programming and helped create the Discovery and Disney cable television channels.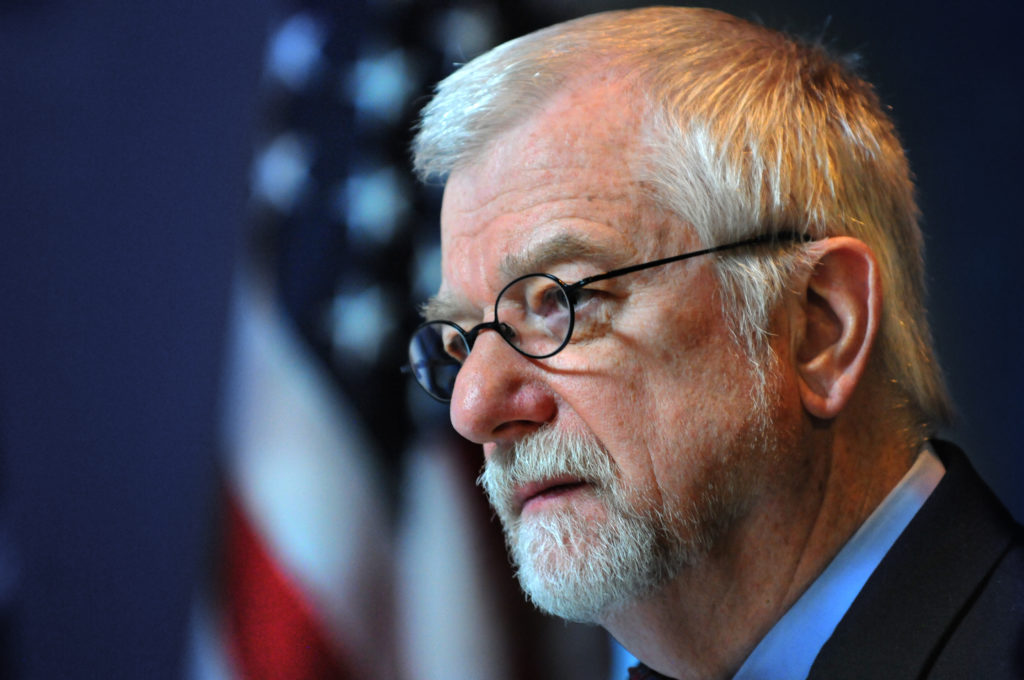 On Sunday, May 17, Baker, a triple alum and 2015 Distinguished Alumni Award-winner, will be behind the microphone once again—albeit remotely—to deliver the convocation address during Case Western Reserve University's virtual 2020 commencement ceremonies.
A veteran of five decades in broadcasting, Baker will also receive an Honorary Doctor of Humane Letters—among the highest honors bestowed by the university.
"Bill Baker's contributions to public and cable television broadcasting are legendary," President Barbara R. Snyder said, "as are his prolific writings about leadership, television and the performing arts. Not only will he offer our students wise guidance about their futures, but also profound insights regarding this extraordinary moment in all of our lives."
An emeritus member of the Case Western Reserve Board of Trustees, Baker is a professor, journalist-in-residence and director of the Bernard L. Schwartz Center for Media, Public Policy, and Education at Fordham University in New York. He's also the Distinguished Professor of media and entertainment at IESE Business School of the University of Navarra in Barcelona, Spain, and President Emeritus of WNET-Thirteen, New York's public television station.
Baker served as president and chief executive officer of New York Public Television from 1987-2007. During his 21-year tenure, he oversaw the tremendous growth and success of its television networks, raising more than a billion dollars.
Before serving as president of New York Public Television, he was president of Westinghouse Television and chair of its cable and programming companies for 10 years. There, he launched five cable networks, including the Discovery Channel and the Disney Channel, established the popular PM Magazine evening show and introduced Winfrey as a talk-show host.
In addition to his illustrious broadcasting career, Baker has had a distinguished academic career as well.
He earned bachelor's, master's and doctoral degrees from Case Western Reserve and holds nine honorary doctorates from universities in the United States and Europe. He taught the first business class at the Juilliard School in New York and hosts a podcast for Religion News Service called Beliefs.
Baker is the co-author of five books on leadership and organizational behavior: Every Leader is an Artist: How the World's Greatest Artists Can Make You a More Creative Leader (McGraw-Hill, 2012), Leading with Kindness: How Good People Consistently Get Superior Results (Amacom, 2008), The World's Your Stage: How Performing Artists Can Make a Living While Still Doing What They Love (Amacom, 2016), Down the Tube: An Insider's Account of the Failure of American Television (Basic Books, 1998), and, most recently, Organizations for People: Caring Cultures, Basic Needs, and Better Lives (Stanford University Press, 2019). Case Western Reserve alum Michael O'Malley is a frequent collaborator as co-author.
In addition to the Emmy Awards, Baker received two Columbia DuPont Journalism Awards and was honored in 2016 by the Chamber Music Society of Lincoln Center for his work in the performing arts. He is the executive producer of the theatrical films and PBS documentaries, The Face: Jesus in Art and Picturing Mary. Baker is executive producer of the film SACRED, which was released worldwide in theaters and festivals in 2017.
He has been inducted into the National Academy of Television Arts and Sciences Management Hall of Fame, the Broadcasting and Cable Hall of Fame and the New York State Broadcasters Association Hall of Fame and is a fellow of the American Academy of Arts and Sciences.
And, for good measure, Baker is believed to be the eighth person in history to have stood on both the North and South Poles.
---
For more information, contact Bill Lubinger at william.lubinger@case.edu.