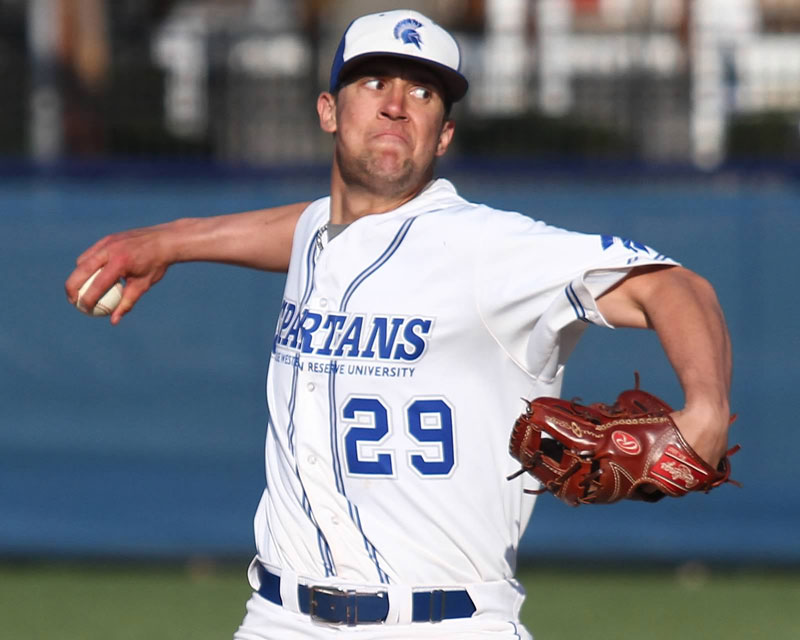 Case Western Reserve University pitcher Rob Winemiller, a junior from Twinsburg, Ohio, was selected by the Toronto Blue Jays in the 25th round (744th overall) of the 2014 Major League Baseball Draft.
Winemiller is only the second player in team history to be selected in the MLB Draft. Third baseman Eric Macha went in the 33rd round to the Oakland Athletics in 2003.
Counting Winemiller and Macha, only a handful of student-athletes in school history have been selected in a professional sports draft, counting those from CWRU, Case Institute of Technology and Western Reserve University.
Winemiller was named the top Division III draft prospect in the nation this past fall by perfectgame.org. That ranking came on the heels of his performance during summer ball with the Geneva Redwings of the New York Collegiate Baseball League.
The 2014 season was Winemiller's first as a collegiate pitcher. He and his coaches decided he had a better chance to make the pros as a pitcher after a strong performance on the mound last year in an amateur summer league, where his fastball was clocked at 95 miles per hour.
Out of the bullpen, he went 1-0 with a save, a 4.05 ERA and 21 strikeouts in 20 innings of work.
"I didn't come to [CWRU] with the expectation of playing professional baseball," the 6-foot-1-inch, 190-pound Winemiller, an accounting major, said in the latest issue of think magazine. "I came to get a great education."