When Rekha Srinivasan asked students in her organic chemistry and biochemistry classes how they were doing in light of recent changes in their lives due to the COVID-19 outbreak, she learned that many were anxious, bored or just plain fidgety. Srinivasan, the James Stephen Swinehart, PhD Professorial Teaching Fellow in Chemistry and senior instructor in the Department of Chemistry, wanted to engage them with something out of the ordinary, so she sent them recipes and invited them to a cooking class via Zoom.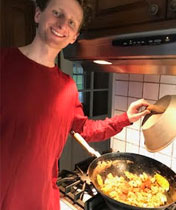 She held two virtual cooking classes over a recent weekend, and turnout was as healthy as the meals. Fifty-five students–and in some cases, their families–brought laptops into the kitchen and took part in the classes, which mixed together a dash of education with plenty of laughter and food. On Saturday, students made a spicy cauliflower ginger curry recipe and learned about gingerol, a chemical compound found in ginger. On Sunday, they prepared chana masala and discussed lycopene, a carotenoid found in tomatoes, one of the main ingredients in the chickpea dish.
Blending cooking with chemistry is something that Srinivasan has done before. A few years ago, she taught a SAGES course called Naturally Spicy, which engaged students with the history, culture, ingredients and cooking of Indian food while incorporating education about the chemical structure of spices and the health benefits of functional foods.
Cooking via Zoom brought students together despite the distance. "It was fun seeing my students in a different setting, and it gave me joy to see them enjoy cooking together," she said. "My students were able to see that while the whole situation was difficult for everyone, we can still laugh a little and relax too."
The virtual cooking classes have continued. Depending on student interest, Srinivasan said it may become a regular Saturday event through the end of the semester.