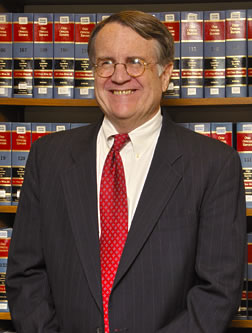 Case Western Reserve Distinguished University Professor Paul C. Giannelli, recognized nationally for his extensive legal research in scientific evidence, was selected to serve on a newly created federal commission on forensic science.
The new National Commission on Forensic Science, created jointly by the U.S. Department of Justice and the U.S. Department of Commerce's National Institute of Standards and Technology (NIST), will explore how to improve the use of forensic evidence in the criminal justice system.
The 30-member commission also will develop policy recommendations for the U.S. Attorney General, including uniform codes for professional responsibility and requirements for formal training and certification. The purpose, according to the Department of Justice, is to better assure the use of scientifically valid and accurate forensic analysis throughout the justice system.
"This is a great opportunity to serve the criminal justice system and to improve forensic science, which plays an important part in prosecuting the guilty and exonerating the innocent," said Giannelli, the Albert J. Weatherhead III and Richard W. Weatherhead Professor of Law at Case Western Reserve. "This is the first such commission. There had been a national report in 2009 that recommended that a federal entity be appointed to oversee forensic science, and this is a result of that recommendation."
The 2009 report, "Forensic Science in the United States: A Path Forward," was prepared by The National Research Council of The National Academies, which advises the nation on issues in science, engineering and medicine.
A former prosecutor and defense counsel in the military, Giannelli has written extensively about evidence and criminal procedure—especially on scientific evidence. He's written or co-authored 10 books, including several editions of Scientific Evidence. He has written more than 200 articles, book chapters, reports, book reviews and columns, including articles in law reviews at Columbia, Virginia, Cornell, Vanderbilt, Illinois, Fordham, North Carolina, Wisconsin, Ohio State and Hastings universities.
He also has published work in the Journal of Criminal Law & Criminology and the American Criminal Law Review and is co-author of a chapter on forensic science in Federal Judicial Center/National Academy of Sciences, Reference Manual on Scientific Evidence (3d ed. 2011). He helped the American Bar Association determine criminal justice standards on DNA evidence.
"What a great honor and so well deserved," said Michael Scharf, who serves with Jessica Berg as acting dean of the law school. "This appointment acknowledges what we already know—what a valuable resource we have in Paul as one of the nation's leading experts in forensic science and how evidence relates to the legal system."
Deputy Attorney General James M. Cole and Under Secretary of Commerce for Standards and Technology and NIST Director Patrick D. Gallagher will co-chair the new commission.

The commission, chosen from a pool of more than 300 candidates, includes federal, state and local forensic science service providers, research scientists and academics, law enforcement officials, prosecutors, defense attorneys and judges and other national experts and stakeholders.