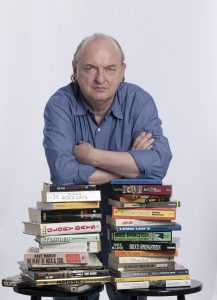 Dave Marsh, rock critic and historian, anticensorship activist and talk show host, will present "You Really Got a Hold on Me," the keynote lecture for the 20th Annual Music Masters (AMM) series presented by Case Western Reserve and the Rock and Roll Hall of Fame and Museum.
Marsh's lecture is Thursday, Nov. 5, at 7 p.m. at Tinkham Veale University Center. The event is free and reservations are not required. Seats are available first-come, first-served.
This year, the AMM series honors William "Smokey" Robinson, who will receive an honorary Doctor of Humane Letters degree from the university to open the tribute concert on Saturday, Nov. 7, at 7:30 p.m. at Playhouse Square's State Theatre.
Marsh, among the most important names in music journalism, has written more than 20 books about rock and popular music. He co-founded and edited Creem, the trailblazing rock-and-roll magazine that helped launch heavy metal, glam and punk, and spent five years as an associate and contributing editor of Rolling Stone, where he was chief music critic, columnist and feature writer. From 1985-2002, he also served as music critic for Playboy.
For the past 25 years, Marsh has written and edited the monthly music and politics newsletter, Rock and Rap Confidential. He has lectured widely on music, politics and censorship. In 2004, Marsh began hosting Kick Out the Jams, a weekly two-hour radio talk show about music and social and political issues on the Sirius Satellite Network. In 2008, he began hosting Live from the Land of Hopes and Dreams, a politically based call-in show on Sirius. The following year, he added Live from E Street Nation, a weekly live dialogue with Bruce Springsteen fans.
Marsh's first book, Born to Run: The Bruce Springsteen Story (Doubleday) was published in 1979 and made The New York Times best-seller list. He has also written Trapped: Michael Jackson and the Crossover Dream (Bantam, 1986), Before I Get Old: The Story of the Who (St. Martin's Press, 1983), Elvis (Times Books, 1982; Thunder's Mouth Press, 1992), The Book of Rock Lists (Dell, 1980) and more.
Marsh's most recent book is The Beatles Second Album (Rodale, 2007). He is writing a book about why American Idol is evil, and completing a long-term project, O Freedom!, the history of music and the Southern civil rights movement of the 1950s and '60s.