Case Western Reserve University lab using digital images of chest scans from coronavirus patients from Wuhan, China, to teach its computers to triage patients
Researchers at the Case Western Reserve University lab, which has become a global leader in Artificial Intelligence (AI)-driven precision medicine research, are developing a computational tool to help medical staff decide which patients will need the most extensive treatment for COVID-19.
And similar to some of their most successful cancer research, they're using fast-learning computers to find details in digital images of chest scans not easily seen by the human eye to quickly and accurately determine which patients are likely to need the most help—especially ventilators.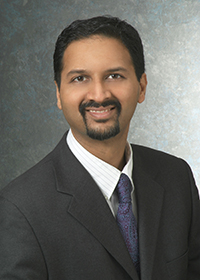 "We're taking lessons we borrowed from our work on lung cancer and other cancers," said Anant Madabhushi, the F. Alex Nason Professor II of Biomedical Engineering at Case Western Reserve and head of the Center for Computational Imaging and Personalized Diagnostics (CCIPD). "We believe we can use the images to determine which patients are going to get so sick that they'll need a ventilator and which ones won't.
"Our role may be for helping health-care professionals deal with the triage situation in a more informed way," he said, "because these are gut-wrenching decisions about who is going to get the most help against an aggressive disease."
Those medical decisions are ongoing across the United States and around the world as the virus has grown into a global pandemic, infecting 2.5 million and killing 171,000 by April 21.
Signs in the scans
Madabhushi said early CT (computed tomography) scans from patients with COVID-19 showed distinctive features such as unique textural patterns specific to patients in the intensive care unit compared to those not in the ICU.
"Our hope is that by combining radiomic textural patterns of the infection on CT scans, along with other clinical and demographic parameters, we could help identify the patients who will likely need a ventilator from those who will not," he said.
Those other factors are critical, Madabhushi said, and include other symptoms and their duration; comorbidities, or the simultaneous presence of two chronic diseases or conditions; and specific levels of urea, neutrophil (a type of white blood cell), a simple protein called albumin and total white cell count.
The researchers began building their model using scan images and datasets found online in early March, but the information was limited in scope, Madabhushi said.
Then, in early April, the CCIPD was offered digital images of chest scans taken in late 2019 from about 100 of the first victims of the novel coronavirus from Wuhan, China.
The addition of that dataset has allowed Madabhushi and his researchers to develop machine learning models to predict risk of a COVID-19 patient needing a ventilator—one based off neural networks (see illustration, bottom) and one derived from radiomics, the extraction of features from the radiographic medical images and using algorithms to reveal disease characteristics unseen by the naked eye.
The power of computational research
The models currently have an accuracy of between 68-75%. However Madabhushi believes that this accuracy will further improve with the incorporation of clinical and co-morbidity factors.
He said the tool could turn out to be more helpful if predictions come true of a second wave of the coronavirus in the fall, he said.
Meanwhile, Case Western Reserve's Research Computing and Infrastructure Services recently granted the CCIPD access to a greater array of powerful computers on campus for the COVID-19 work and offered to help secure more computational power from the Ohio Supercomputer Center or National Science Foundation, if necessary.
Madabhushi has also applied for funding from the U.S. Department of Veterans Affairs to support the new research.
Madabhushi established the CCIPD at Case Western Reserve in 2012. The lab now includes more than 60 researchers. Some were involved in this most recent COVID-19 work, including: graduate students Amogh Hiremath, Pranjal Vaidya; research associate Kaustav Bera; and research faculty Cheng Lu and Mehdi Alilou.
Some of the lab's most recent work, in collaboration with New York University and Yale University, has used AI to predict which lung cancer patients would benefit from adjuvant chemotherapy based on tissue-slide images. That advancement was named byPrevention Magazine one of the top 10 medical breakthroughs of 2018.
---
For more information, contact Mike Scott at mike.scott@case.edu