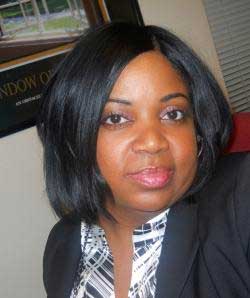 Throughout her 15-year career at Case Western Reserve University, Darlene Barnes was known for her humor, dedication and thoughtfulness—qualities that impacted not just her colleagues but youth from across Cleveland, as she worked as the department assistant for the university's FOCUS Group's TRIO Upward Bound program.

The Case Western Reserve community is now remembering the life of Barnes, who passed away this week after a battle with cancer. She was 53.

"Darlene had the best sense of humor," said Assistant Director of TRIO Upward Bound April Hickman. "When she would tell stories, we would all laugh non-stop—I've never heard anything like it."

Barnes joined the university in 2005 as a secretary for TRIO Upward Bound, a federal outreach and student services programs designed to help students from disadvantaged backgrounds progress from middle school to college graduation. Though she briefly worked for other departments in the Division of Student Affairs, the majority of her career at CWRU was spent supporting TRIO.

"She was very passionate about the program," said Director of TRIO Erica Calderon. "She would always try to keep kids on the right path—encouraging them to stay in the program, telling them that they had to go to college and helping them make good choices."

Barnes' colleagues described her as the "caretaker" of the office, always making sure staff had what they needed when visiting schools, and that students were nurtured. Calderon said Barnes "cared so much about the office" and took pride in supporting her colleagues and students.

Barnes was also known for her firm but thoughtful nature, often scolding TRIO program participants for requesting extra snacks, then secretly giving them more anyway. She also kept her personal snack supplies well-stocked, and frequently surprised her colleagues with their favorite treats—just because.

Both at work and home, Barnes loved to learn new things and recently decided to go back to school to pursue her associate degree in business administration from Cuyahoga Community College.

Barnes is survived by her mother, son and two grandchildren.
The Daily will provide updates regarding planned remembrances and other information as it becomes available.
Faculty and staff who need support during this time can access counseling at any time by calling IMPACT Solutions at 1.800.227.6007; you can learn more about their programs at myimpactsolution.com.
Students who would like support are encouraged to contact counseling services at 216.368.5872. This line is staffed by a counselor 24 hours a day, seven days a week. Students also can stop by Sears 220 during weekday business hours to meet with a counselor in person.