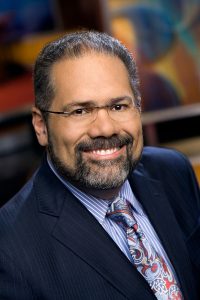 Journalist and news correspondent Ray Suarez will kick off the fall 2016 Power of Diversity Lecture Series when he visits the CWRU campus for a public lecture and book signing Thursday, Sept. 22, at 4:30 p.m. in Tinkham Veale University Center, ballroom A. His visit also is part of a series of special events being held on campus in celebration of Hispanic Heritage Month, which is held from Sept. 15 to Oct. 15.
Suarez is the former host of NPR's Talk to the Nation. He also served as chief national correspondent for the PBS Newshour and hosted Al Jazeera America's daily news program Inside Story. Suarez will discuss social and political issues related to Hispanic/Latino communities during his talk titled "The Browning of America."
The lecture is free and open to the public. To RSVP for the event, email your contact information to diversity-rsvp@case.edu and indicate your plan to attend the Suarez lecture.
There will be a book signing immediately after the lecture. Suarez is the author of Latino Americans: 500-Year Legacy that Shaped a Nation and The Old Neighborhood: What We Lost in the Great Suburban Migration, 1966-1999. Both books will be on sale prior to and after the lecture.
The 2016 fall Power of Diversity Lecture Series will continue with:
Cassi L. Pittman, assistant professor in the Department of Sociology, who  will discuss "Race, Class and Place: Rethinking Middle-Class Blacks' Residential Preferences and The Consequences of Minority Suburbanization" Thursday, Sept. 29, at 3 p.m. in  Adelbert Hall's Toepfer Room.

Michiko Watanabe, professor of pediatrics, genetics and anatomy, who will discuss "Exploring the Tiny Beating Heart: Rewards of Diversity & Teamwork in Research on Heart Development" Tuesday, Oct. 18, at 3 p.m. in the Tinkham Veale University Center Senior Classroom.
In addition, for the first time, the lecture series will feature a CWRU staff member as a guest speaker. Annually, the series includes two CWRU faculty scholars and a national diversity thought leader. However, the program has been expanded to highlight the knowledge and contributions of campus staff members.
This fall the featured staff lecturer will be G. Dean Patterson, Jr., associate vice president for student affairs. He will discuss "The Journey First Begins From Within" Tuesday, Nov. 1, at 3 p.m. in the Tinkham Veale University Center Senior Classroom. The title is taken from a chapter Patterson wrote for an upcoming book that explores best practices for African Americans at predominately white higher education institutions.
All lectures are free and open to the public. To attend, RSVP by indicating the lecture you will attend and providing your contact information to diversity-rsvp@case.edu. For more information about the series and speakers visit the OIDEO website, or email janetta.hammock@case.edu.