Not all Case Western Reserve University students learn on campus—or even in Cleveland. With five degree offerings available in completely online formats, some students can finish their degrees without ever stepping foot on campus.

The Jack, Joseph and Morton Mandel School of Applied Social Sciences offers the Master of Science in Social Administration, while there are four programs based at the Case School of Engineering: a Master of Engineering (with four different tracks), a Master of Science in Biomedical Engineering, a Master of Science in Mechanical Engineering and a Master of Science in Systems & Control Engineering. Read more about the online master's programs.

As National Distance Learning Week (Nov. 4-8) comes to a close today, we asked four online master's program students about their experiences in programs at Case Western Reserve University. Here's what they had to say.

Peter C. Chukwuka
Master of Science in Biomedical Engineering
Expected graduation: Spring 2021
California

Online master's students share their experiences in CWRU's programs

I became interested in the biomedical engineering program for what it has in store for me as an individual, [as well as] the university itself, the nation and the world at large.[I want] to see how I can [help] alleviate people's medical issues using my education and research, having seen some of my loved ones pass on as a result of certain medical conditions that can be treated. Once I went through the programs offered online at the Case School of Engineering and read the introductory note by the chair of biomedical engineering, the areas of focus in the training as well as the testimonies of graduates from this department, I [realized it] perfectly aligned with my career prospects.

What has been the best or most valuable part of online learning?
The community of learning that the weekly discussion prompt creates. It gives me the opportunity to learn new things every week, especially the constructive responses I receive from fellow students to the discussion prompts. It also helps me to see things from different perspectives since the individual contributors are coming from different backgrounds. The details in the analysis of topics is awesome.

Rishe Sivagnanam
Master of Engineering: Mechanical Concentration
Expected graduation: Spring 2021
Memphis, Tennessee (moving to Southern California)

Have you found there to be any misconceptions about online learning?
One misconception to online learning is there is no camaraderie with your fellow classmates. I don't find that to be true, even if we live in different time zones. I find that the people in this program are willing to help or contribute to a group project just like if I was attending the class in [person].

How do you feel the online program has helped you prepare for or build your career?
A master's degree definitely gives you an edge when applying to jobs. Balancing the rigor of the program along with a full-time job also helps build a number of soft skills, which have been easily transferable to my career. For example, some of the classes I've been in have been presentation heavy, so now when asked to build a presentation for work, it comes easily to me.

Makayla Wright
Master of Science in Social Administration
Expected graduation: July 2021
Seattle, Washington

Why did you decide to pursue an online master's program?
I decided to pursue an online master's program because of its flexibility. I was initially hesitant because I prefer to connect with professors and classmates face to face. I went to a small liberal arts college for my undergrad and was concerned about the online format. But I also wanted to have flexibility, and [the Mandel School] was an amazing program. I spoke with an admissions representative over a period of six months before deciding to apply.

How do you feel the online program has helped you prepare for or build your career?
I think the online program has helped me to build my career so much. I am in the middle of my career and work as national and local community organizer at Soar, a small intermediary in Seattle. Much of my work is centered on empowering and uplifting disengaged and marginalized communities. I didn't want to pause the amazing work I was already doing by advocating, educating and elevating communities. This program has been pivotal because I am able to continue this work while also expanding my knowledge as a social worker and therapist at my field placement.

Tricia Zeedrich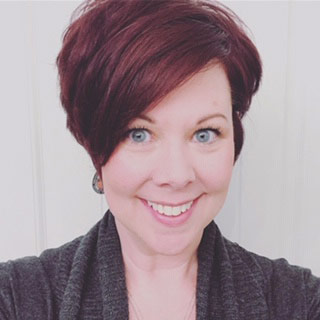 Master of Science in Social Administration
Expected graduation: August 2021
Mentor, Ohio

What about CWRU's program interested you?
There were two big aspects of Case [Western Reserve]'s program that interested me. First, Case [Western Reserve] has a great reputation, and the Mandel School is no exception. Thinking about it, I realized that the people with whom I've most enjoyed working over the years and the leaders I've most admired were [Mandel School] graduates. In addition, CWRU contributes so much to its own community and to the city of Cleveland, and that's really important to me, as well. Second, I was really impressed by the structure and support provided for field experience in my program. Comparing it to other schools, I knew I'd be far better prepared here than anywhere else.

If you could give advice to someone considering an online program, what would you say?
Planning and time management are critical for online learning. If you aren't diligent about both, you will quickly become overwhelmed—faster than you think. Create a system that works for you, and stick to it.
Self-care is imperative. Most of us choose online learning because we have a bunch of other responsibilities, as well. Our plates are very full. If we don't take care of ourselves—take time to rest and nourish ourselves—we jeopardize our health and well-being and our ability to care for all those counting on us.
You will get out of this program what you put into it.