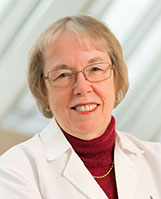 Medical advancements that extend the lives of patients with cancer, heart failure and other serious chronic diseases have created another need: more clinicians skilled in specialized care for people with terminal illnesses.
Acknowledging this need, Case Western Reserve University's Frances Payne Bolton School of Nursing has received a five-year, $1.76 million grant from the National Institute of Nursing Research (NINR) for a pre- and postdoctoral fellowship program in what is known as palliative care.
Palliative care focuses on providing relief from pain, stress and other symptoms to improve quality of life for both the patient and his or her family. But the work also involves sorting through end-of-life preferences—highly sensitive and personal discussions that require special preparation and ability.
"It's a pretty unique skill to be able to talk to people about death and dying," said Barbara Daly, the Gertrude Perkins Oliva Professor in Oncology Nursing, who secured the grant. "Palliative-care nurses and doctors are really skilled at counseling, guiding and coaching patients through the decision-making process."
Daly, a former intensive-care unit nurse, estimated she's had those difficult conversations with thousands of patients during the last 20 years specializing in palliative care.
The NINR grant will provide support for eight pre-doctoral and nine postdoctoral fellows. The nursing school, the only one nationally that offers a master's program specifically combining oncology and palliative care, has begun recruiting students for the program.
Long term, the goal is to train nurse scientists who will, in turn, advance the knowledge and understanding of how to provide effective palliation that improves the quality of life for patients with advanced and incurable diseases.
Daly's grant from NINR, one of the National Institutes of Health, follows a $1.74 million NINR award last fall to Jacquelyn Slomka, an assistant professor of nursing, to support her research in early palliative care for patients diagnosed with HIV.
The advent of effective treatment for HIV has greatly boosted survival statistics. But the increased number of those living with HIV/AIDS also means more people suffering from such chronic conditions as liver disease, heart failure and diabetes as a result of lifestyle factors, treatment side effects and age. Slomka's research is testing a model of early palliative care for HIV/AIDS patients.
For information on applying for one of these fellowships, please email Daly at bjd4@case.edu or call 216.368.5994.