Thrity Umrigar's life changed when she stood up and asked a question.
This act was not unusual for the then-veteran journalist. It was both the setting—a literary lecture while Umrigar served as a Nieman Fellow at Harvard University—and how she asked the question that prompted a book agent to approach her, unaware she was a writer, much less finishing the manuscript that became her debut novel, Bombay Time.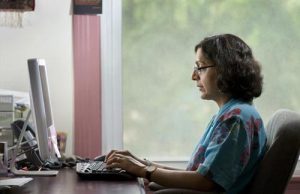 "I was plucked out of nowhere," she said. "It was total luck."
What may have started by chance, Umrigar has cemented by making her own luck. She's emerging as a rarity in the crowded field of letters: at once a critically celebrated writer with an international following, and an English professor whose breadth of expertise and dedication to students have earned her a reputation in academia beyond her scholarly credentials.
As one of three newly minted Distinguished University Professors, Umrigar will be honored during fall convocation today (Aug. 29) at Severance Hall.
Distinguished University Professor is a permanent title to honor exceptional faculty members for their contributions to research, scholarship, teaching and service.

Read more about the Distinguished University Professor honor.
"Hart Crane, Rita Dove, Langston Hughes, Toni Morrison—these are only some of the great names in the roster of literary giants associated with Cleveland," wrote Peter Knox, the Eric and Jane Nord Family Professor and director of the Baker-Nord Center for the Humanities, in nominating Umrigar for the honor. "Future historians of literature will surely include Thrity in their company."
Taking readers by the hand
Perhaps more impressive is that Umrigar's place in literary circles is the result of a mid-career pivot.
Growing up in India, Umrigar read widely, especially novels reflecting life in America, an unseen place she'd eventually move to at 21. Leaving behind her family—and expectations she'd take over their small business—Umrigar wished for a life trafficking in words, while guided by a practicality that ensured she earn a living.
Near the end of her 17 years writing articles and columns for newspapers in Ohio, she began to see signs of her industry in decline. While still working full-time, she enrolled as a PhD student at Kent State University, studying African-American literature.
In the meantime, she started writing fiction, often telling stories with characters from marginalized societies and class backgrounds.
"Many of my readers are not privy to these worlds," said Umrigar, who joined Case Western Reserve in 2002. "If I can take readers by the hand, show them a slum in Bombay, what it looks and smells like, and create some compassion or empathy, and more importantly, a desire for social justice, then I've succeeded."
In addition to a children's book and memoir, Umrigar has published eight novels, including If Today Be Sweet, The Weight of Heaven and 2017's Everybody's Son, which have been translated in more than a dozen languages and reviewed favorably by major critics and publications around the world.
"Sitting down to write is still a joy, a relief; it feels like exhaling—though some days it can make you want to tear your hair out," said Umrigar, who becomes the English department's first Distinguished University Professor since the honor was created in 2010.
"When I was told of this award, a list of equally deserving colleagues went through my mind, who are worthier, brilliant, hard-working and fabulous," she said. "This award truly belongs to all of us."
---
For more information, contact Daniel Robison at daniel.robison@case.edu.