Preparing to start your first year of college can be stressful—moving to what may be a new city, meeting new people and adjusting to college course expectations are all challenging transitions in the best of times. And this year's incoming class faced all of those challenges in the midst of an ongoing pandemic.
But thanks to a new initiative from Sears think[box], a group of 22 first-year students who plan to major in engineering had the opportunity to start their introduction to Case Western Reserve before they even set foot on campus through a new interactive, virtual learning opportunity.
The Human Centered Design Challenge was a four-week course designed to help incoming first-year students interested in engineering learn the foundations of design thinking—a process and a mindset to understand people and their problems before developing the solutions—and human-centered design—a process that prioritizes empathy as a tool to better identify, understand and solve problems.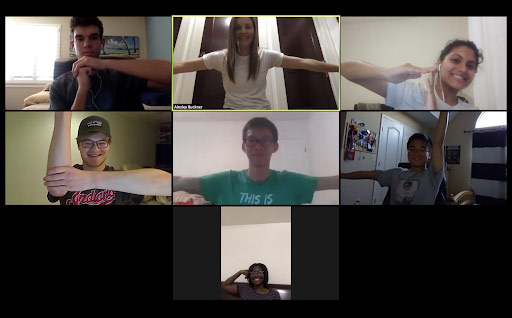 "We wanted to offer a program that would apply to any incoming engineering student," said Richard Graham, program coordinator at Sears think[box]. "We decided to use the human-centered design framework because it helps build a foundation for design thinking mindsets that include: empathy, embracing ambiguity, learning from failure, iteration, and creative confidence. These mindsets can be applied to every student's classes and help them plan their college careers."
Starting July 21, the participants met twice weekly via Zoom to discuss assignments and participate in real-time group activities. Each session was held in small groups of five to six students with a member of the think[box] team as a facilitator.
As part of the program, the students interviewed their peers about their college aspirations and expectations. Following the interviews, they synthesized their information to make sense of what they learned from the interview stage, and began to identify emerging problems and start prototyping solutions. The students then refined their solutions through feedback and iterative prototyping.
The goal was for students to use this process to learn how to ask the right questions to help them better identify problems, how to listen actively to their peers and, hopefully, walk away with a living document or a road map for their college experience that they can present to their navigators.
"I think this program provides a platform for the incoming first-year students to feel connected and to get to know their peers and university staff and to learn about the resources we have on campus," shared Ainsley Buckner, prototype engineering manager at Sears think[box] "I hope the program will help alleviate some anxiety or answer some questions about coming to a university campus for the first time, particularly during a pandemic."
The Arthur S. Holden Professor of Engineering, and new director of Sears think[box], Jim McGuffin-Cawley shared this enthusiasm for the new program.
"I am delighted that we were able to design and launch this innovative course for the incoming class of engineering students. I believe it has the potential to illustrate the design mindset and introduce problem solving skills that are integral to shaping a career path. Both will help prepare students for future design and engineering challenges. It has been a very positive first offering and we are hopeful that we'll be able to accommodate larger groups in future iterations."