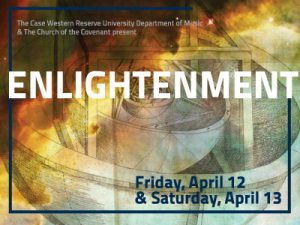 Set in the recently renovated sanctuary of the Church of the Covenant, music groups from the church and Case Western Reserve University Department of Music will present "Enlightenment," a program of works by composers George Frideric Handel and Joseph Haydn.
The performances are Friday, April 12, and Saturday, April 13, at 7:30 p.m. at Church of the Covenant. Tickets are $8 general admission and free for students with a college or high-school ID. Free parking is available.
The concert represents the third year the Case Concert Choir, Church of the Covenant Choir and Case/University Circle Symphony Orchestra have collaborated to perform choral and orchestral masterworks.
Francesca Brittan, Case Western Reserve assistant professor of musicology, will explain two of the classical works in a pre-concert talk at 6:45 p.m. before each performance.
The first work, Handel's Organ Concerto, op.4, no.1, features Jonathan W. Moyer on the church's newly installed Newberry Gallery Organ and the Case Baroque Orchestra.
Matthew L. Garrett, director of Case choirs and assistant professor of music education, will conduct Haydn's Schöpfungsmesse, the fifth of the composer's late six masses. ClevelandClassical.com praised the musical groups for their "glorious choral sound" in a 2010 performance of Mozart's Requiem.
Tickets are available at the door or in advance from the Department of Music at 216.368.2400 or Church of the Covenant at 216.421.0482.