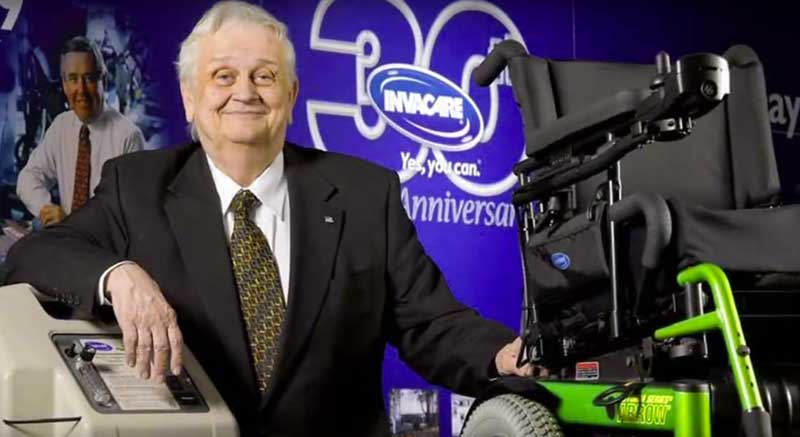 A memorial service will be held Friday for alumnus and trustee Joseph B. "J.B." Richey II, developer of the first commercially available full-body CAT scan and one of the first major donors to the university's innovation hub, the Larry Sears and Sally Zlotnick Sears think[ box ].
Richey, whose childhood fascination with electronics led to an illustrious career in medical devices and related machinery, died last week at 79. His passing came just eight weeks after the dedication of the Richey Mixon building, a moment that became possible after Richey and longtime friend and colleague Mal Mixon joined together to commit $5 million to the project in 2011.
"For me, personally, this building is about honoring J.B. [Richey], who is a Case [Institute of Technology] graduate and helped me build a business in this region through great engineering ideas," Mixon said at the time he and Richey announced their commitment. "But beyond that we want to be a part of helping the next generation of young people with vision take some risks and generate some companies and a new birth for Cleveland."
The university opened the first three floors of the seven-story, 50,000-square-foot structure this fall after a "lift-off" ceremony in October 2014 to signal the start of renovations. Richey and Mixon stood side by side for last year's celebration, just as they had done in business for more than four decades. The inveterate inventor and exceptional businessman first met at Ohio Nuclear, the company where Richey developed the full-body CAT scan and Mixon helped market and sell it. Later Mixon led the purchase of a small, quiet medical equipment company called Invacare; Richey was among the founding investors, and five years later joined the company full time. Together they built the enterprise into a global leader in home medical equipment.
Between Ohio Nuclear and Invacare, Richey contributed to more than 100 patents, as well as many scientific articles. He earned membership in the Institute of Electrical and Electronics Engineers, Inc. in 1965 and 11 years later became a member of the Radiological Society of North America. He played a role in at least 1,000 new or updated inventions throughout his career, and had planned to have an office in the Richey Mixon building where he could answer questions and offer advice to current students.
"I was always very proud of the school," Richey said in a video about Sears think[ box ] earlier this year, "and this is one way that I'll leave something behind for the next generations to come."
Richey's memorial service will take place at 2:30 p.m. Friday, Dec. 4, at Fairmount Presbyterian Church (2757 Fairmount Blvd., Cleveland Heights, OH 44118). He is survived by his four children: Joseph B. Richey III (Wendy) of Bainbridge, Judy Schuster Richey of Brecksville, Laurel Richey-Abbey (Stephen) of Chagrin Falls, and Jonathan B. Richey (Danielle) of Shaker Heights. He also had 10 grandchildren: Lisa, Melanie, Mason, Kyle, Caroline, Elle, Rocco, Lorelei, Leo and Hawken. His wife, Gayle, predeceased Richey.
His family has asked that any donations in his honor go to think[ box ] (Case School of Engineering, Richey Mixon Building, 11201 Cedar Ave., Cleveland, OH, 44106).