Ten seniors have been selected for the 2020 homecoming court, with three to be crowned royalty at the homecoming celebration* Saturday, Oct. 10, at 12:30 p.m.
Seniors had the chance to apply for the court with a resume and application. From there, representatives from the Class Officer Collective and the Office of Student Activities and Leadership interviewed students to pick the top 10.
Students can vote for royalty on CampusGroups through noon Friday, Oct. 9.
Get to know this year's court below.
*The homecoming celebration will have limited attendance with proper social distancing and health protocols in place. The event also will be livestreamed on Facebook and Instagram (@ClassOfficerCollective). Get more details about the celebration.
Rachel Beller
Major: Chemical engineering, Spanish
Hometown: Mentor, Ohio
Hobbies: Marching band, Percussion Ensemble, Symphonic Winds, Pep Band, Sigma Psi Sorority, Order of Omega, Gamma Sigma Alpha, Tau Beta Pi Engineering Honor Society, undergraduate research
"I fell for CWRU because I felt like I could do everything I wanted to do and more, and the campus felt like home. I love the supportive campus culture and that my peers will always stand up for what they believe in."
Bridget Croniger
Major: Cognitive science
Hometown: Lakewood, Ohio
Hobbies: Hanging out with her friends, family and dogs
"I knew CWRU was home from the start of orientation week my freshman year. The welcoming, inclusive and vibrant characteristics of our community make me proud to be a CWRU Spartan."
David Dolansky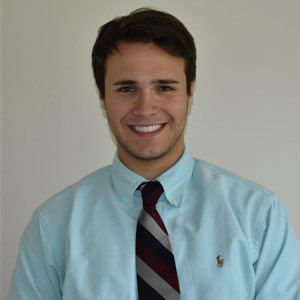 Major: Marketing and theatre
Hometown: Brecksville, Ohio
Hobbies: Theatre, film production, event planning
"I first fell for CWRU when I arrived on campus and met the exceptional people here. I had been here before, but it was the intelligent, friendly and engaging people that made me fall in love with this institution."
Chloe Jen
Major: Statistics, medical anthropology, MPH in health policy and management
Hometown: Bridgewater, New Jersey
Hobbies: Painting, sewing, reading
"My favorite part about being a part of the CWRU community is how warm and welcoming everyone always is. Every time I walk down the street anywhere, I always run into a friend who I can stop to talk with. We are also a collaborative environment, where people tend to support each other and help them be the best human beings they can be."
J'Niah Johnston
Major: Accounting, Spanish
Minor: Pre-law
Hometown: Columbus, Ohio
Hobbies: Learning new languages
"I fell for CWRU because being a Spartan means creating meaningful relationships. Personally, one of the reasons that I chose to become a Spartan was from the interactions that I had with the community. I believe that CWRU is special in the fact that the people here are so unique and caring. I have met numerous students and faculty that I will continue to have a relationship with outside of academics. That being said, I wish to serve on Homecoming Royalty because I am not only an advocate for diversity and inclusion, but CWRU."
Corey King
Major: Mechanical engineering
Minor: Banking and finance
Hometown: Hammond, Louisiana
Hobbies: Track and field, football, investing
"For me, CWRU has been the place I thought could provide me with exposure and experiences I can not get from any other institution. From being a part of highly successful varsity teams to being surrounded by some of the nation's best thinkers, CWRU is unlike any other place."
Georgia Kralovich
Major: Biology
Hometown: Farmington Hills, Michigan
Hobbies: Yoga, baking, going for walks with friends
"I fell for CWRU when I realized that students here are more interested in being themselves than impressing others."
Chloe Mieras
Major: Political science, religious studies
Hometown: Lorain, Ohio
Hobbies: Politics, crafting, playing Nintendo Switch
"I fell for CWRU, first, because Cleveland is my home. I grew up in Cleveland and always got to experience the beautiful community CWRU contributed to. I fell for CWRU when I went to my first activities fair. I loved seeing how many groups our campus had, the communities they'd built, and that everyone truly had a space to be a part of something they are passionate about."
Bidisha Raychaudhuri
Major: Biochemistry
Hometown: Chicago suburb
Hobbies: Painting, running, trying to embroider and and cut her own hair, Undergraduate Student Government vice president of academic affairs, Physics 122 teaching assistant, School of Medicine research assistant
"My time at CWRU hasn't been without its ups and downs, but the one consistently positive factor has been the people here. I firmly believe that a community is only a reflection of the people within it, and I think ours is a phenomenal one."
Emma Risley
Major: Political science, history and theatre
Minor: African American Studies
Hometown: Tinton Falls, New Jersey
Hobbies: Theatre/performance, plant mom, going on adventures (currently through books)
"My tour date was miserable. It was sideways raining, gusting winds and terrible traffic. Yet, the tour guide kept the tour going with enthusiasm and kept the rest of us engaged and positive. I realized that even on the bad days, the type of people I would find here would keep me going."