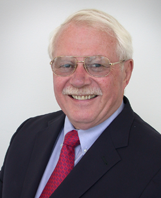 Often, collaboration helps turn a great idea into a life-changing invention, or a minor project into a major breakthrough. But for James M. Anderson, collaboration is what's defined his career.
As a professor of pathology, macromolecular science and biomedical engineering, Anderson's 44 years at Case Western Reserve have included research, teaching and service that bridges medicine and engineering. In addition, he has been instrumental in developing cooperative efforts between the School of Medicine and Case School of Engineering—as well as among other universities.
These shared endeavors have earned him many awards and honors—including, most recently, Distinguished University Professor, a title that will be conferred upon him during fall convocation on Wednesday, Aug. 29, at 4:30 p.m. in Severance Hall.
Recognizing the outstanding contributions of full-time, tenured professors with exceptional academic records of research, scholarship, teaching and service, the Distinguished University Professor title is the highest honor bestowed upon professors at Case Western Reserve University. Five faculty members will be given the permanent, honorific title during convocation and will be profiled throughout upcoming issues of The Daily.
Anderson first became involved in multidisciplinary projects shortly after he arrived on campus in 1967 as a postdoctoral investigator in chemistry. Two years later, he began conducting biomedical polymer research at Case School of Engineering and developed a course titled "Polymers in Medicine" for graduate students. Eventually, at the age of 32, he enrolled at Case Western Reserve University School of Medicine, and while studying medicine he continued to teach and conduct research in the field of biomaterials at the engineering school. He graduated from medical school in 1976, completed his residency in 1979, and then became an assistant professor at Case Western Reserve University.
His education and expertise in multiple subjects led to cross-school research projects. "Because I work in that gray area with medical devices and biomedical polymers, I've got one foot in [Case School of] Engineering and one foot in the School of Medicine—and a third foot in University Hospitals," Anderson joked. "It's that combination that gives one insight into clinical problems for which materials and devices can be helpful."
Among his many contributions to the medical and engineering fields is his discovery that inflammatory cells could degrade polyurethanes such as those used in pacemakers and lead to the device's failure. The information he provided allowed experts in other fields to develop new chemical structures for more stable polyurethanes that would not degrade or fail.
More recently, he was a member of a multi-institutional research team that developed a microchip implant that administers medication according to directions delivered wirelessly from outside the body. The results carry significant promise for a wide range of medications for the treatment of patients with cancer, multiple sclerosis and diabetes.
Again, Anderson downplays his individual contributions but instead focuses on the cooperative efforts required. "From my perspective, I was interested in tissue/material interactions that could determine the success or failure of the device, so our research played a very important role in determining appropriate design criteria. I didn't do any of the electronics or even the clinical studies, but you see how it all comes together. The key there is communication and collaboration," he said.
"Though Jim will characterize himself as our resident curmudgeon, he is in fact the consummate collaborator and educator, and his own research has driven new insights into the body's reaction to materials used in medical devices that have guided a whole generation of innovators to safer, more effective treatments," said School of Medicine Dean Pamela B. Davis. "His students are distinguished, independent scientists, and his collaborators are the who's who of American medicine—and his own work is stellar and a driver of today's medical advances."
A member of the Institute of Medicine of the National Academy of Sciences, Anderson is a sought-after consultant to the Federal Drug Administration and NIH as well as medical device and pharmaceutical companies. He has won numerous national and international awards, including an honorary degree from the University of Geneva, the 2005 Elsevier Gold Medal, the 2006 Chugai Mentoring Award from the American Society of Pathology and a Case Western Reserve University School of Medicine Distinguished Alumnus Award in 2007. He is a member of the Association of American Physicians and a fellow of the American Association for the Advancement of Science.
Above all his personal accomplishments, Anderson is most proud of the students who have come through his laboratory and what they have achieved. He hopes it was their experience in his laboratory that taught them about making it in the real world.
"I expect my students in my laboratory to collaborate between themselves. I set up projects so that's what occurs," Anderson said. "Because when they leave the sheltered environment of the university, they're going to have to communicate and collaborate. That's reality; that's real life."