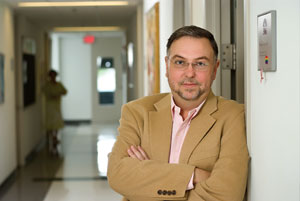 Victor K. Groza, the Grace F. Brody Professor of Parent-Child Studies at the Mandel School, received the Doctor Honoris Causa Award, an honorary degree, from West University of Timisoara in Romania.
Groza was selected for the award for his contributions toward developing social work education and for his advocacy for child welfare and adoption in Romania.
His interest in the European country stems from his family ties. His grandparents left Romania about 100 years ago to come to the United States.
In 1990, Groza began reform efforts in Romania, a country whose outdated adoption practices lag 30 to 50 years behind those in the United States. More than two decades later, he started to focus his work at the West University of Timisoara, implementing an education curriculum for adoption-related mental health issues and a post-graduate program for professionals entering the field of adoption.
Currently, Groza is working to establish a faculty exchange program with West University, which was made possible by a recent change in European Union funding.