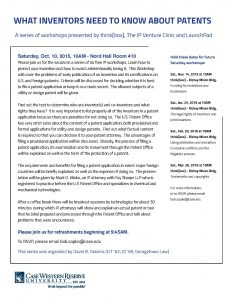 The Intellectual Property Workshop series, presented by think[ box ], The IP Venture Clinic and LaunchPad, will continue Saturday, Oct. 10, at 10 a.m. in Nord Hall, Room 410.
During the workshop, titled "What Inventors Need to Know About Patents," participants will learn how to protect their inventions and how to avoid losing them unintentionally.
Mark D. Klinko, an IP attorney with Fay Sharpe LLP who is registered to practice before the U.S. Patent Office and specializes in chemical and mechanical technologies, will answer question such as:
What are the problems with early publication of an invention (and what are the ramifications on U.S. and foreign patents)?
Is it better to file a patent application or keep it as a trade secret?
What are the allowed subjects of a utility design patent?
And what do you need to apply for a patent?
IP attorneys also will show and explain an actual patent or two that they prepared and processed through the patent office and talk about problems they encountered.
Future workshops include:
Funding for inventions and businesses: Saturday, Nov. 14, at 10 a.m. in the Richey Mixon Building
The legal rights of inventors and joint inventors: Saturday, Jan. 23, at 10 a.m. in the Richey Mixon Building
Using arbitration and mediation to resolve conflicts and the litigation process: Saturday, Feb. 20, at 10 a.m. in the Richey Mixon Building
Trademarks and copyrights: Saturday, March 26, at 10 a.m. in the Richey Mixon Building 
For more information or to RSVP, email bob.sopko@case.edu.
Alumnus David B. Deioma (CIT '62) organized this series.