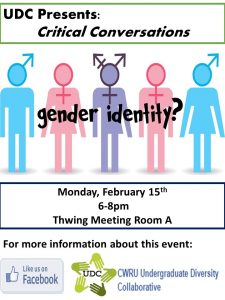 The Undergraduate Diversity Collaborative (UDC) will hold the second of many Critical Conversations this semester today (Feb. 15) from 6 to 8 p.m. in Thwing Center, meeting room A.
The Critical Conversation will feature a dialogue on gender identity.
This is important to the campus community as we strive to foster a more inclusive environment for all students. Share your experiences around gender identity at CWRU and learn from others about how we can make our campus more aware of the issues that surround gender identity and shift towards resolving them.
Critical Conversations serve as a continuation of the We Belong Here discussion that took place this past school year.
Organizers hope Critical Conversations will start an open community dialogue through which students can voice their concerns for campus issues related to diversity and inclusion.
The goal for UDC is to take the student body's opinion on these difficulties into account when developing initiatives geared toward solving the problems in a more proactive manner.