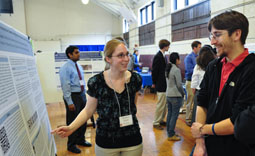 Check out what Case Western Reserve University undergraduates have done in research by attending the Intersections: SOURCE Symposium and Poster Session on Friday, Dec. 6, from noon to 2:45 p.m. in Adelbert Gym.
At the event, undergraduates have the opportunity to present their research and creative projects.
Intersections, a fun and informative celebration featuring bright students and supportive faculty mentors, is an opportunity for the university community and others to see the broad and diverse work being done across campus by undergraduates.
More information can be found on the SOURCE Intersections website.