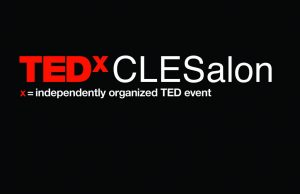 This year marks the centennial of Albert Einstein's General Theory of Relativity—a landmark scientific discovery with roots at Case Western Reserve University.
In 1887, Case School of Applied Science physics professor Albert Michelson and Western Reserve University chemistry professor Edward Morley performed the famed Michelson–Morley experiment, which generally is regarded as the first strong evidence against the existence of the luminiferous ether—and as the groundwork for Einstein's theories of relativity.
Recognizing that connection, Case Western Reserve University's Institute for the Science of Origins and TEDxCLE have partnered to bring a TEDxCLESalon event to campus for the first time to highlight the anniversary. The City Club of Cleveland is partnering with the two organizations to present a portion of the event. The Laura and Alvin Siegal Lifelong Learning Program and the university at large have provided significant support to bring the event to campus.
"General Relativity is one of the greatest intellectual achievements of humanity, and certainly a watershed in our understanding of the nature of space and time," Glenn Starkman, professor of physics and astronomy and director of the Institute for the Science of Origins, said. "In many ways it was a theory ahead of its time. Even now, 100 years later, we are making major progress on understanding the theory, and finding the first applications in GPS."
The event will be held Friday, Nov. 20, from 12:30 to 6:45 p.m. at the Tinkham Veale University Center. The City Club of Cleveland's weekly pubic Friday Forum will kick off the event.
The Friday Forum will feature a discussion led by Dan Moulthrop, City Club of Cleveland CEO, on Albert Einstein's legacy. Evalyn Gates, executive director and CEO of the Cleveland Museum of Natural History and Cyrus C. Taylor, dean of the College of Arts and Sciences and Albert A. Michelson Professor of Physics, will join in the conversation for the first Friday Forum ever to be held on Case Western Reserve University's campus.
TEDxCLESalon organizers will bring in experts from Cleveland and beyond who will highlight various aspects of general relativity. Speakers for this event are:
Ruth Gregory, professor of physics at Durham University
Nergis Malvalvala, the Kathleen Marble Professor of Astrophysics at MIT
Stacy McGaugh, professor and chair of astronomy and director of the Warner & Swasey Observatory at Case Western Reserve
Claudia de Rham, the Baldwin Assistant Professor of Physics at Case Western Reserve
John Ruhl, the Connecticut Professor of Physics at Case Western Reserve
Glenn Starkman, professor of physics and astronomy at Case Western Reserve University and director of the Institute for the Science of Origins
Paul Steinhardt, the Einstein Professor in Science at Princeton University and director of the Princeton Center for Theoretical Science
TED, a nonprofit organization founded in 1984, first began promoting "ideas worth sharing" through powerful 18-minute talks on a wide range of subjects. TEDx events bring TED-like talks to the local level. In Cleveland, Hallie Bram Kogelschatz and Eric Kogelschatz introduced these independently organized events, in 2010.
TED Salons allow for "deep reflection around singular topics," and typically incorporate opportunities for more discussion between audience members and speakers. This event will mark the first TEDxCLESalon.
"We want to excite the public about cutting-edge science," Starkman said. "We also want them to know that there are world-class researchers right here on their doorstep, advancing our basic understanding of the universe and how it works."
The groundwork came about when TEDxCLE founders and curators Hallie Bram Kogelschatz and Eric Kogelschatz met with the TED team in New York earlier this year. The team suggested the Kogelschatzes look into providing more evidence-based talks in the sciences. TED officials wanted to provide TED viewers with more access to that kind of content—and with the amount of scientific research happening in Cleveland, it was a good fit.
While informally, CWRU and TEDxCLE have partnered in the past, this will be the first time the two organizations have presented an event together.
"Given the wealth of innovation happen at CWRU, it's inconceivable for our team to think about hosting TEDxCLE without focusing on the efforts of students and faculty there," Bram Kogelschatz said. "Given the incredible work coming out of the Institute for the Science of Origins—as well as the natural inclination for telling stories about our past, present and future that matter—it was a perfect fit to come together with their team."
Ticket Information
General admission tickets are $45. To purchase tickets, call 216.368.2090 or visit TEDxCLE.com/tickets. Student tickets are available for $25 at tedxclesalonstud.eventbrite.com.
All tickets include admission to the conference, the City Club Friday Forum and Salon breakout sessions.
For more information including details and directions, visit TEDxCLE.com.