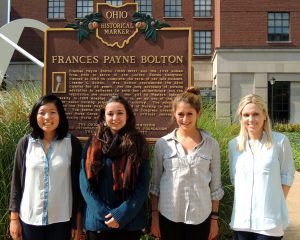 During a 10-month teaching assignment in Cairo last year, recent college graduate Zoey Przekurat started to lose her hair. But it wasn't from the stress of managing an elementary school classroom.
The pollution in the Egyptian capital was so pervasive, Przekurat explained, that it caused many people—even young ones—to begin balding.
Moved by her experiences, Przekurat aspired to a career in health care. She decided to pursue a nursing degree at Case Western Reserve University because of the experience—more than 1,000 hours—she would gain learning to care for patients in nearby facilities.
Przekurat is one of four first-year graduate nursing students to receive scholarships through a new three-year, $600,000 award from the Helene Fuld Health Trust, a national philanthropy dedicated to supporting nursing students and nursing education.
"It's very motivating," Przekurat said, "because it's telling me that I'm going for something important, that a fund is willing to support me."
This award follows a previous $550,000 trust commitment for scholarships for undergraduates in nursing. That grant has supported 18 students to date.
"We are very grateful for the generosity and vision of the Helene Fuld Health Trust," said Mary E. Kerr, dean of the Frances Payne Bolton School of Nursing and the May L. Wykle Endowed Professor in Nursing, "and proud to be a beneficiary of the trust's distinguished legacy of supporting nursing education."
This new grant targets students pursuing advanced nursing studies after majoring in other disciplines as undergraduates. Przekurat, for example, majored in education at the University of Miami. She ultimately hopes to work in international public health or healthcare administration.
Jennifer McGowan, another Fuld scholarship recipient, encountered two transformative experiences en route to choosing a nursing as a profession. A chemistry major at the University of Florida, she initially planned a career in research. But after a year of taking care of her cancer-stricken mother, McGowan found herself thinking more about how she could help others.
Then, three years later, McGowan herself suffered an extended severe illness caused by an adrenal tumor. "I guess I never realized how much nurses did," she said. "I don't know what I would have done without them because they noticed things that others didn't … and it really improved my care."
Like many students in the Graduate Entry Nursing Program, McGowan hopes to continue her education beyond this program; she'd like to earn a degree that allows her to become a nurse anesthetist.
"I was very grateful for the help," McGowan said of receiving the Helene Fuld Health Trust scholarship. "I would hope that what I do with my career and my education at [CWRU] would be something the donors would be proud of, that they could say, 'I'm glad I contributed to providing an education for someone who became a great nurse.' "
The Helene Fuld Health Trust is scheduled to award the grant over three years. Each year, half of the funds awarded will support current-year scholarships for students in the Graduate Entry Nursing Program; the other half will fund an endowment that will provide scholarships in future years.