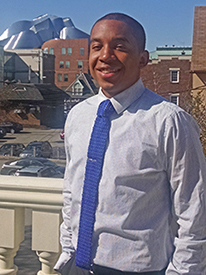 Jason N. Rucker was named this year's scholarship recipient of the Ohio Collegiate Plate Program, sponsored by The Alumni Association of Case Western Reserve University. The CWRU Ohio License Plate Scholarship is awarded to a student who demonstrates a strong commitment to classmates and the university and shows initiative in his/her chosen field of expertise.
The scholarship's monetary value is based off of the number of CWRU license plates purchased during the academic year.
Rucker is the youngest of seven children to attend Case Western Reserve and is a legacy student. His mother, Alberta D. Rucker (WRC '77) and father, Michael D. Rucker, set high educational expectations for their family that will be realized with Jason Rucker's graduation.
When Rucker arrived at CWRU after graduating from University School in 2011, he knew he was interested in economics, but wanted to learn more about the various programs the field of business had to offer. As a student at the Weatherhead School of Management, Rucker discovered he really wants to help people in financial services.
"I'm a hard worker, and I often come off quiet and shy, but I like communicating with people of all ages. That's a big reason why I'm interested in getting into financial services," he said.
Since 2013, Rucker has worked as an office assistant to Sara Fields, director of alumni relations at the School of Dental Medicine. He said he's had a great experience planning events and engaging CWRU alumni.
"We are excited about his upcoming graduation," said Fields, "but we are sad to be losing such a hard worker who has helped to organize our work processes. He takes such pride in his work and is always eager to help with any assignment we need completed. He has a strong mix of professionalism and personality."
After graduation, Rucker said he plans to continue his job search in the Cleveland area, and looks forward to networking with alumni and becoming more involved with the African American Alumni Association from which he received the Michael E. Fisher Scholarship award in 2012.
Learn more about how the CWRU Alumni Association Collegiate Plate Program supports scholarships at case.edu/alumni/resources/benefits-services/plates/.