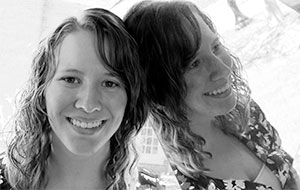 Andrea Fidler first heard of Macau, a special administrative region of China, during a visit last year to Hong Kong with her boyfriend's family. Over the next year, the graduating senior from Case Western Reserve will travel to Macau as a Fulbright Scholar on an English Teaching Assistantship grant.
Fidler, who will graduate with a bachelor's degree in psychology and minors in childhood studies and mathematics, will go from Pine Grove, Pa., a one-stoplight town of 3,000 residents, to an area of about 500,000 people—home to her host institution, the Macao Polytechnic Institute.
She leaves Case Western Reserve with aspirations to become a pediatric psychologist. While in Macau, she will assist with college-level English classes along with teaching English to primary and secondary school students. She also plans to volunteer at a children's home.
"I want to see how mental health is viewed through the lens of another culture," she said.
The fact Fidler would be interested in teaching anyone, let alone in a foreign land, was unlikely. Raised in a family of educators, she often heard their frustrations about bureaucratic administrative issues.
"I never considered teaching to be that exciting," she said.
However, through volunteer work tutoring a 10th grade Burmese refugee and working as a camp counselor for CWRU's Gelfand STEM Center, she experienced firsthand the power of teaching.
"When I saw a 12-year-old grasp the concept of an electrical circuit and power a light bulb with a battery and single strip of aluminum foil—I want to develop equally exciting and engaging activities while teaching English (in Macau)," she said.
And after four years of harsh Cleveland winters, Fidler said she is anticipating "refreshing living where the temperature rarely drops below 40 degrees."
While Fidler has taken short trips to the Netherlands and China, she's never spent an extended time in a foreign country or become immersed in a new culture.
"I want to hear other people's viewpoints and then learn from these experiences," she said.
Fidler has heard much about Macau from Dih-loan Wong, her boyfriend of more than two years. He also will graduate from Case Western Reserve May 19. But next year, the Pacific Ocean will separate them as Wong stays on campus for the Master of Engineering and Management program while Fidler heads to Macau.
One cultural experience at the top of her list is sampling Macau's food. While she's eaten plenty of Chinese food in Cleveland, none was prepared the way Macau does because of its combined influence from Portugal and China.
Macau also is known for its casinos, much like Las Vegas. But Fidler has plans to visit other places.
Interested in photography since childhood, she wants to photograph the city's extensive gardens and ruins of the 17th Century Cathedral of St. Paul, built while Macau was under Portuguese rule. Other must-sees, she said, are the Macau Grand Prix and the International Fireworks Display Contest. And, if time permits, she also hopes to run a marathon or half-marathon.
Fidler studied Mandarin Chinese for two semesters on campus. But because the predominant dialect in Macau is Cantonese, she plans to take informal Cantonese lessons from friends.
Before departing for Macau in August, Fidler will be involved in the Summer Undergraduate Research Program, working in the pediatric department at University Hospitals.