I-Corps@Ohio program aims to advance research into products for medical treatments or surgeries
Four medical-technology research teams at Case Western Reserve University will participate in focused entrepreneurial training through I-Corps@Ohio, an Ohio Department of Higher Education initiative created to advance their work from the lab to the commercial market. Each selected project has potential for a product or services for medical treatments or surgeries.
Universities, colleges and community colleges in Ohio are eligible to participate in I-Corps@Ohio, which provides $15,000 to each selected research team in the seven-week training program. The curriculum helps the teams better understand the market for their technology, develop a commercialization strategy and attain new skills for ongoing research and development.
Eight teams were chosen for the 2018 Medtech category from across Ohio. The four from Case Western Reserve include two from the Department of Biomedical Engineering in the Case School of Engineering, one from the School of Medicine and one from the School of Dental Medicine.
I-Corps@Ohio seeks to help them develop business models to launch start-up companies. The program identifies and selects potential new ventures that could attract funding and encourage collaboration between academia and industry.
"I-Corps provides hands-on training to Ohio faculty and students in the 'Lean Launchpad Business Model Canvas' process, which establishes a mechanism for evaluating the market need and commercial potential of their proposed technologies," said Wayne Hawthorne, senior licensing manager at Case Western Reserve's Technology Transfer Office. "At the conclusion of the technology commercialization training program, teams will be able to make market-based judgments on the potential fit of their technologies with customer needs and make informed decisions on whether to go forward with startup companies or other forms of technology commercialization."
The teams will participate in educational sessions in Columbus in May, with weekly updates leading to presentations to possible investors or industrial partners in July.
Case Western Reserve's four I-Corps@Ohio research projects are:
Novel imaging agent for tumor detection and fluorescence-guided imaging during surgery (Principal Investigator is School of Medicine Professor Susann Brady-Kalnay)
The technology: Brady-Kalnay has developed an imaging peptide that binds to and fluorescently highlights cancer cells to aid in the surgical resection of the brain tumor glioblastoma. This imaging agent, which she calls SBK2, has translational significance for molecular imaging of tumors, guiding neurosurgeons to a more complete resection of tumors—including the removal of invasive tumor cells that have migrated away from the main tumor. That allows surgeons to make real-time decisions on tumor margins to improve patient outcomes.
Optical method for monitoring corneal crosslinking and corneal biomechanics (Principal Investigator is Biomedical Engineering Professor Andrew Rollins)
The technology: Rollins and his research team have developed a new method, based on optical coherence tomography, to detect and map corneal mechanical properties that requires no contact or disturbance of the cornea. The potential advantages of this technique may make it readily translatable to clinical use because of existing hardware already in the clinician's office.
Oropharynx appliance for airway patency (Principal Investigator is Dominique Durand, the Elmer Lincoln Lindseth Professor in Biomedical Engineering)
The technology: Durand and his team are advancing a non-invasive device that prevents the blockage of the patient's airway—or oropharynx—that causes obstructive sleep apnea. Each device is personalized, based on a patient's anatomical features, and custom-fitted to provide a comfortable experience as they sleep. This allows for the natural movements of the tongue to occur without affecting the effectiveness of the device.
Point-of-care device (POC) for diagnosing and monitoring of oral cancer (Principal Investigator is School of Dental Medicine Professor Aaron Weinberg)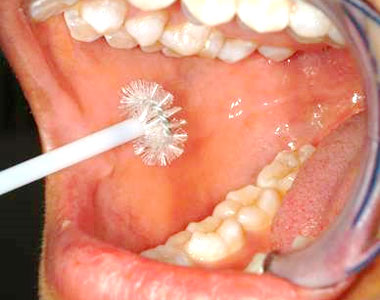 The technology: Weinberg, chair of the dental school's Department of Biological Sciences, has developed a non-invasive oral cancer biomarker test that collects cells from questionable oral lesions and objectively determines if they are cancerous within 15 minutes. He is currently conducting a small clinical study to test the technology.
---
For more information, contact Bill Lubinger at william.lubinger@case.edu.