Last Friday, members of the Case Western Reserve University community gathered in celebration of all levels of research on our campus. And the annual Research ShowCASE also offered an opportunity to recognize some of the university's most prolific scholars with the presentation of the Faculty Distinguished Research Awards.
Each year, the honor is bestowed upon faculty members from varying fields of study who have made an impact on their fields through scholarly or creative contributions. Each honoree receives a plaque and $10,000 in research funds.
This year's recipients are:
Jill S. Barnholtz-Sloan, the Sally S. Morley Designated Professor in Brain Tumor Research;
Gary Galbraith, professor of dance;
Jonathan L. Haines, the Mary W. Sheldon MD Professor of Genomic Sciences;
Roger Quinn, the Arthur P. Armington Professor of Engineering; and
Jagdip Singh, the AT&T Professor of Marketing.
"Celebrating the accomplishments of our finest researchers and scholars is one of my favorite things to do," said Vice President for Research and Technology Management Suzanne Rivera. "The groundbreaking inventions and discoveries by these CWRU faculty are making important contributions to their disciplines of study and providing great benefit to society. The impact of their work cannot be overstated."
Read more about each of the recipients below.
Jill S. Barnholtz-Sloan
Sally S. Morley Designated Professor in Brain Tumor Research
Department of Population and Quantitative Health Sciences, School of Medicine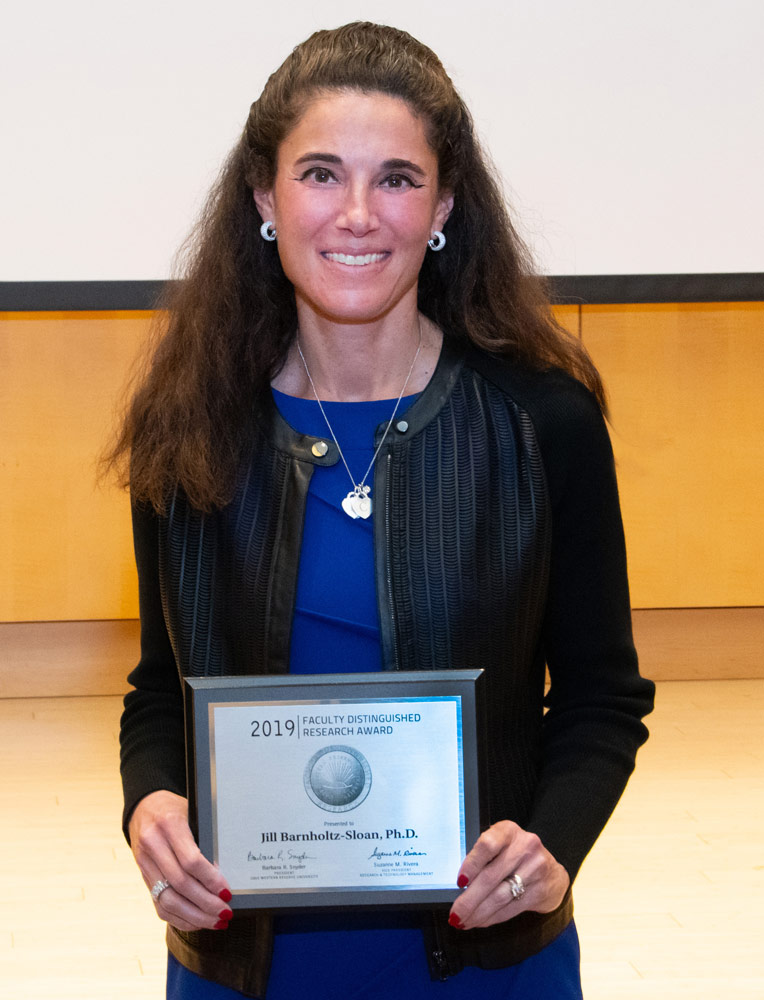 Collaboration is at the heart of Jill S. Barnholtz-Sloan's work. Recognized by colleagues as a "team scientist," her impact on research extends well beyond her own projects in brain-tumor epidemiology.
Because of her expertise in bioinformatics, Barnholtz-Sloan is often called on to help researchers—in leadership roles with the CWRU GI SPORE Biostatistics Core, CWRU Barrett's Esophagus Translational Research Network Bioinformatics Core and Case Comprehensive Cancer Center (CCCC) Biostatistics and Bioinformatics Core Facility—design their studies and interpret the results.
Barnholtz-Sloan, who joined the Case Western Reserve faculty in 2007, also leverages the power of collaboration in her own research: To gather a larger sample for brain-tumor research, she works with others as principal investigator (PI) of the Ohio Brain Tumor Study, a multi-site network. And she's teamed with other researchers as PI for the Central Brain Tumor Registry of the United States.
Barnholtz-Sloan's research has shed light on various aspects of brain tumors, including cancer demographics and therapeutics, among others.
With more than 250 peer-reviewed publications—eight of which have been cited more than 100 times—Barnholtz-Sloan, who holds primary appointments in the Department of Population and Quantitative Health Sciences and at the CCCC, has contributed greatly to the field.
"In many respects," a researcher unaffiliated with the university wrote in a nominating letter, "I see in Jill Barnholtz-Sloan leadership capabilities that are primed for explosive and focused yields as she is tasked to lead new initiatives."
Gary Galbraith
Professor of Dance
Department of Dance, College of Arts and Sciences
Gary Galbraith choreographed a first-of-its-kind dance performance with his work Imagined Odyssey. The piece, which debuted in 2017, had dancers interacting with holograms as audience members wore Microsoft HoloLens headsets to see the performance come to life.
But it was hardly the first time Galbraith, who holds degrees in biomedical engineering and contemporary dance, paired technology and dance.
In 2002, Galbraith's Kinetic Shadows used Internet2 technology to have dancers and musicians perform simultaneously in different cities. And, in his 2010 piece, In Common Space, Galbraith again bridged distance using broadband to bring together six dancers across the country in one unified performance.
Galbraith's 2009 work, Distant Encounters, used holographic visualization to create the illusion that two dancers—one of whom was in a remote location—were performing on stage together.
"He has expanded the universe of dance much like the pioneers of the 20th century," a colleague wrote of Galbraith. "He has continuously charted new territory artistically by exploring a variety of approaches for media-rich and technology-infused choreography."
For many years, Galbraith was a principal dancer with the Martha Graham Dance Co. in New York, performing lead roles in several ballets by Graham and works by guest choreographers.
Galbraith also is an established leader in dance medicine as a founder and director of the Dancer Wellness Project and a member of the Dance/USA Task Force on Dancer Health, for which he also chairs the Injury Surveillance Committee. His work in that area also extends to Case Western Reserve, where he co-directs the CWRU Dancer Wellness Project.
Jonathan L. Haines
Mary W. Sheldon MD Professor of Genomic Sciences
Department of Population and Quantitative Health Sciences, School of Medicine
Jonathan L. Haines has built his career exploring the role of genes and the environment in human health and disease through the lens of big-data analytics.
A world-renowned genetic epidemiologist and human geneticist, Haines' research has contributed to such groundbreaking discoveries as successfully mapping many of the first Mendelian diseases and genetic breakthroughs for many neurodegenerative and ocular diseases.
The impact of his work can be seen in his more than 600 publications, 11 of which have been cited over 1,000 times each. His top 10 articles have been cited more than 24,000 times, including a 2005 article on macular degeneration, which remains one of the most-cited papers in biomedical research. He has delivered more than 150 invited lectures and has six patents.
Haines is chair of the Department of Population and Quantitative Health Sciences at Case Western Reserve University, where he began in 2013. He also is founding director of the Cleveland Institute for Computational Biology, a collaborative among the School of Medicine, University Hospitals and Cleveland Clinic.
Haines is among the highest-funded researchers in his field, ranking eighth in support by the National Institutes of Health (NIH). He most recently secured a $14.6 million grant from the National Institute on Aging at the NIH to study Alzheimer's disease across diverse populations.
As one of his colleagues at another institution noted in nominating materials: "Medical genetics has been made better by Dr. Haines' innovation, mentorship and scientific impact."
Roger Quinn
Arthur P. Armington Professor of Engineering
Department of Mechanical and Aerospace Engineering, Case School of Engineering
Over more than three decades at Case Western Reserve University, Roger Quinn has become an international leader in robotics, making seminal contributions to the fascinating and rapidly emerging field of bio-robotics.
Quinn has also guided graduate students, postdoctoral fellows and research associates in developing new designs and control theories based on biological principles for improving robot performance.
His work in a "very thorough and elegant way, combines solutions from engineering for the control of walking robots with findings from biology, in particular neurobiology," one of his colleagues wrote in a nominating letter. That work has also been crucial in helping to achieve better understanding of the kinematic and dynamical mechanisms underlying the motion of animal systems.
In fact, Quinn's body of work now stands as a "fix(ed) hallmark in the field of motor control research, bridging neurosciences and engineering," another colleague wrote. Quinn has secured eight patents as a result of those advancements.
He has graduated 34 doctoral and 77 master's students; published more than 80 papers in international scientific journals; given more than 150 scientific lectures at national and international conferences; and won 11 Best Paper or Best Video Awards from leading international conferences in the fields of robotics, automation and artificial intelligence.
Quinn's students have won three first-place and two third-place finishes out of the five competitions in which they have participated at the Institute of Navigation Robotic Lawn Mower Competition. He also has had more than 150 refereed conference contributions and more than 70 refereed contributions to robotics conferences.
Jagdip Singh
AT&T Professor of Marketing
Weatherhead School of Management
Considered a leading scholar in the interdisciplinary field of service innovation and management, Jagdip Singh has distinguished his 30-year career with deep and meaningful research, an inventiveness in the classroom, and his efforts on behalf of students.
He is regarded as the founding father of the emerging field of "organizational frontline research," a group of scholars and practitioners who study interactions at the point of contact between an organization and its customers. He has been particularly recognized for advancing the understanding of the importance of frontline employees.
"Jagdip's creativity and innovativeness are evident in the topics he chooses to research and the methodological rigor and quality of his work," wrote a colleague at another institution in nominating materials. "He has never shied from picking real and important problems for his research and addressing them in innovative, yet highly rigorous ways."
With a research portfolio notable for both its quantity and quality, Singh ranks in the top 1 percent of marketing researchers in the volume and impact of his publications. He is among the most heavily cited faculty members at Case Western Reserve University—according to Google Scholar—with more than 20,520 citations, stemming from his 60-plus published articles in leading peer-reviewed journals, 85 papers in conference proceedings and 79 presentations to academic organizations and conferences.
Singh has helped develop partnerships with a host of Northeast Ohio's blue-chip companies to provide mentors, internships and career opportunities for university students.
In May 2018, he was awarded both the Weatherhead School's highest research honor—the Enduring Impact Award—and, for the second time, its Excellence in Doctoral Teaching and Mentor Award.