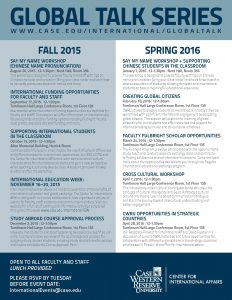 Communication failures in class may be the result of cultural differences and different academic environment experiences. Join Educational Services for Students, the University Center for Innovation in Teaching and Education, and the Center for International Affairs for a session to learn common cultural characteristics for international students and gain a new perspective when teaching a culturally diverse class. Students will be available to answer questions after the workshop.
This session will be held Thursday, Oct. 15, from noon to 1 p.m. in the Allen Memorial Medical Library's Herrick Room (use Adelbert Road doors).
Pizza and sodas will be provided at this session.
Email InternationalEvents@case.edu or ucite@case.edu to RSVP.