Speakers include award-winning playwrights, best-selling authors, a celebrated cultural critic and filmmaker, and renowned water scientist
Case Western Reserve University's Think Forum speaker series is presenting a lineup of celebrated guest lecturers covering a wide range of topical issues, from climate change and presidential history to storytelling and cultural criticism.
The 2016-17 Think Forum schedule, which begins Tuesday, Nov. 1, includes two lectures this fall and two next spring. Each lecture starts at 6 p.m. at the university's Milton and Tamar Maltz Performing Arts Center at The Temple-Tifereth Israel (1855 Ansel Road, Cleveland).
The lectures are free, and those interested can reserve general admission seating online at case.edu/events/thinkforum or by calling the Maltz Performing Arts Center box office at 216.368.6062. Parking is available at the Maltz Performing Arts Center at the special-event rate of $5.
The 2016-2017 series features the following speakers:
Suzan-Lori Parks
Tuesday, Nov. 1
Topic: Between Performance and Conversation
Among the most acclaimed playwrights in American drama today, Suzan-Lori Parks' lectures are part performance and part storytelling. Audience members can expect an energy-packed performance and readings from her work, including the Broadway hit TopDog/Underdog, which earned her the 2002 Pulitzer Prize in Drama—making her the first African-American woman to win the award.
After a childhood of constant relocation, she used the experience to influence her work. Parks credits her writing teacher and mentor, James Baldwin, for starting her on the path to playwriting. Her adaptation of Porgy and Bess won the Tony Award for best musical revival in 2012. Parks' most recent play in New York City, Father Comes Home From The Wars, set during the Civil War, won the 2014 Horton Foote Prize, as well as the Kennedy Prize for Drama.
Parks also has been awarded a Guggenheim Fellowship, a MacArthur Foundation Grant and the Dorothy and Lillian Gish Prize. She hosts a free weekly writing workshop, called "Watch Me Work," and is a professor at New York University's Tisch School of the Arts.
Tony Kushner and Sarah Vowell
Tuesday, Nov. 29
Topic: The Lincoln Legacy: The Man and his Presidency
Presenting for the first time together, award-winning playwright and screenwriter Tony Kushner and bestselling author Sarah Vowell will examine the life's work and legacy of Abraham Lincoln, the nation's 16th president.
Kushner penned the 1993 Tony Award-winning play (and later Emmy Award-winning TV miniseries) Angels in America, which followed a group of people battling the AIDS epidemic in the mid-1980s. The play won the Pulitzer Prize for Drama that year. He later wrote the screenplay for director Steven Spielberg's Lincoln. Kushner also was awarded the National Medal of Arts in 2013.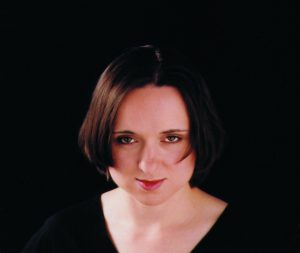 Vowell, a best-selling author, journalist, essayist, social commentator and actress, has written seven nonfiction books about American history and culture. Her most recent book, Lafayette in the Somewhat United States (2015), follows the American Revolution and the role played by General Lafayette. She was also a contributing editor to the NPR show This American Life and voiced the character of Violet in Pixar's The Incredibles.
Henry Louis Gates Jr.
Thursday, March 23, 2017
Topic: Ancestry
Henry Louis Gates Jr.'s talk is presented by the F. Joseph Callahan Distinguished Lecture. His speech will also serve as the keynote address for the Baker-Nord Center for the Humanities' Cleveland Humanities Festival, featuring immigration as its theme.
Gates is the Alphonse Fletcher University Professor and director of the Hutchins Center for African and African American Research at Harvard University. A literary critic and filmmaker, he also sits as jury chair of Cleveland's Anisfield-Wolf Book Awards. He has written 17 books and produced 14 documentaries, primarily for PBS. Most recently, he wrote, produced and narrated the 10-part series Finding Your Roots, a show that has won both an Emmy and a Peabody award.
Known for his commitment to African-American representation in literature and film and his fight for the recognition of that history, Gates has received more than 50 honorary degrees as well as numerous academic and social action awards. In 1997, Time magazine listed him among its "25 Most Influential Americans."
Jay Famiglietti
Tuesday, April 4, 2017
Topic: Can We Solve the Global Water Crisis?
A hydrologist who teaches Earth system science and civil and environmental engineering at the University of California, Irvine (UCI), Jay Famiglietti is widely considered among the world's authorities on the global water cycle and climate change. Famiglietti is also the Senior Water Scientist at the NASA Jet Propulsion Laboratory at the California Institute of Technology.
Before landing at UCI, he helped launch the climate program at the University of Texas at Austin. For more than 25 years Famiglietti has been working on spreading the word of climate change in academics, business, government and to the general public.
In addition, he is a regular contributor to major news outlets, such as The New York Times, The Huffington Post and National Geographic. Famiglietti is writing his first book, about the global disappearance of groundwater resources, and was recently appointed to the State Water Resources Control Board of California by Gov. Jerry Brown.