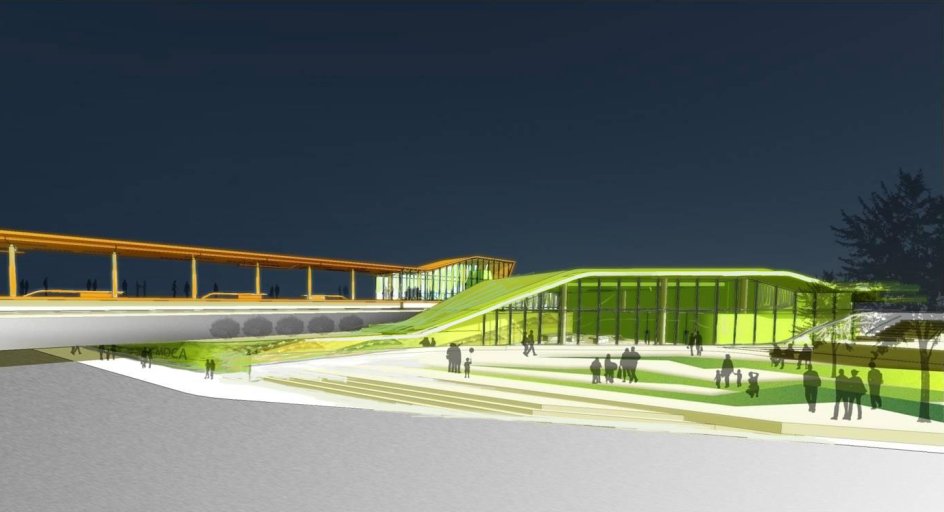 Responding to the growing needs of Case Western Reserve University and the larger University Circle community, the Greater Cleveland Regional Transit Authority will embark on an $18.5* million renovation to the Cedar–University Red Line Rapid Station. Federal and local officials will join university and foundation leaders in a groundbreaking at 10 a.m. tomorrow at the transit station.
The event is the latest in a series of expansions and improvements to public transportation near campus; in late 2008, the HealthLine debuted, easily connecting campus and downtown via Euclid Avenue, and late last year, RTA announced a $12.5 million federal grant to relocate and build a new rapid station at Mayfield Road and East 119th Street—just a quick walk to the Uptown development.
The renovation of the Cedar–University rapid station is estimated to take two years, but the station and bus terminal will remain open during construction.
"Ultimately, this project is going to help commuters coming to University Circle and Case Western Reserve," said Dick Jamieson, vice president of Campus Services. "It will be a great upgrade for campus and the entire community."
Originally built in 1956, the station has had only minor retrofits throughout the years to make it partially compliant with the Americans with Disabilities Act. The goal of the new project, funded in part through a $10.5 million TIGER (Transportation Investment Generating Economic Recovery) grant from the U.S. Department of Transportation and a $2 million earmark from former Sen. George V. Voinovich's time in office, is to completely rebuild the station to enhance the passenger experience and provide full ADA compliance.
Located within the Rockefeller and Ambler Parks and adjacent to the Case Quad, the new rail station building will play off its park surroundings with an organic design and a green roof. The front wall (facing the street) will be glass, and a widened, covered pedestrian pathway under the rail bridges will connect the rail station and relocated bus transfer area. On the platform level, there will be new stairs and an elevator as well as an enclosed waiting area.
The project also will make upgrades to the associated bus transfer loop and slip ramps. The renovations will allow for safer pedestrian traffic by removing a significant amount of pavement within the intersection; for the excess bus-only pavement to be converted into a wide pedestrian/bike lane underneath the bridges; and for the current loop area to be reverted back into a park.
"Not only will this new facility serve and support the transportation needs of our faculty, staff and campus visitors," said President Barbara R. Snyder, "but more importantly, it will serve as a beautiful gateway to our campus and surrounding Greater University Circle communities."
Snyder will be among the local and national representatives attending the groundbreaking Wednesday; others will include Cleveland Mayor Frank Jackson, Federal Transit Administration Administrator Peter M. Rogoff, Cleveland Foundation President and CEO Ronald Richard and University Circle Inc. Director of Planning Chris Bongorno.
Once the project officially launches, it will significantly affect traffic patterns near the station. Changes will include:
Cedar Avenue (westbound) will have three lanes maintained, but they will be much narrower;
Vehicles will no longer be able to use the Cedar Avenue "jughandle" to continue onto Cedar Avenue westbound; instead, a detour will take drivers westbound on Carnegie Avenue to Stokes Boulevard (southbound) back to Cedar Avenue (view a map of the detour);
Cedar Avenue (eastbound) will be reduced to two lanes from Martin Luther King Jr. Boulevard to Ambleside Drive/Murray Hill Road;
Other projects may be completed after peak hours (between 7 p.m. and 6 a.m. weekdays or on weekends); traffic will be down to one lane at times with flaggers directing traffic.
In addition, the Cedar Road exit from Lot 1A (the parking lot behind the Case Quad) is closed; all Lot 1 traffic must enter and exit from Martin Luther King Jr. Boulevard.
Employees, visitors and the public should expect some traffic delays, especially in the first days of the traffic change.
Keep reading The Daily for any major updates, or visit www.riderta.com for more information.
*This version of the article has been updated to show the cost of the entire project is $18.5 million, not $15 million.