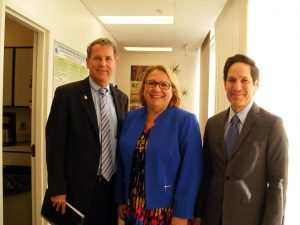 Some studies have found that life expectancy in the United States can vary as much as 25 years, depending on where you live.
Within its broad mission, the Centers for Disease Control and Prevention (CDC) aims to attack what the federal agency defines as "place-based" health disparities. CDC Director Tom Frieden, during a recent visit to the Prevention Research Center for Healthy Neighborhoods (PRCHN) at Case Western Reserve University, described the problem as an inequity "where lifespan is determined more by zip code than genetic code."
Frieden, after returning from West Africa to learn more about the Ebola outbreak, joined United States Sen. Sherrod Brown (D-OH) to hear first-hand about the life-changing public health programs Case Western Reserve's PRCHN are co-creating with public health officials and community partners to better serve disadvantaged and underserved urban neighborhoods.
"Senator Brown and Director Frieden were clearly impressed with the groundbreaking work of the Prevention Research Center and its ongoing commitment to improving the lives of Northeast Ohioans," said Mark Chance, PhD, vice dean for research at Case Western Reserve School of Medicine and director of the Center for Proteomics and Bioinformatics. "All this is made possible by leveraging the ongoing CDC support and through cooperation and collaboration with our many community partners, including the county and city health departments, who are committed to finding solutions to improve health in our urban neighborhoods and across the county."
PRCHN Director Elaine Borawski, PhD, professor in the Department of Epidemiology and Biostatistics, with her colleagues Erika Trapl, PhD (Epidemiology and Biostats), Darcy Freedman, PhD (Epidemiology and Biostats) and Susan Flocke, PhD (Family Medicine) and nearly a dozen community partners, presented an overview of the center's progressive and collaborative work, including:
Freshlink, PRCHN's core project, which increases access to healthy foods in underserved neighborhoods. Among its many innovative approaches is a produce prescription program to increase the amount of fruit and vegetables pregnant women consume to help reduce infant mortality.
We Run This City Youth Marathon Program, a school/community-based fitness program run by the YMCA of Greater Cleveland and in collaboration with the Cleveland Metropolitan School District and the Cleveland Rite Aid Marathon. The center has documented significant improvements in blood pressure, body mass index and cardiovascular fitness levels of thousands of Cleveland youth who participated in the program over the past eight years.
Tobacco Prevention and Control. The center is involved in surveillance and intervention efforts across Cuyahoga County to reduce tobacco use in youth and adults, and especially the use of little cigars, hookah and e-cigarettes.
Links with local and state health departments to increase capacity for evidence-based public health practice that can help reduce or prevent the development of chronic disease. For example, $10 to $50 is spent to treat tobacco-related health problems for every $1 spent on tobacco prevention and control programs, according to Frieden. "That's what public health does," he said. "It delivers value, it saves lives and it saves money. Prevention is the best 'buy' in the health sector."
PRCHN was established in 2009, becoming part of the CDC-funded national PRC network. The PRCHN was built on the foundations of two previous centers—the Center for Health Promotion Research and the Center for Adolescent Health, which merged to become the PRCHN. Borawski, who is also the Angela Bowen Williamson Professor of Community Nutrition in the departments of Epidemiology and Biostatistics and Nutrition at the School of Medicine, serves as principal investigator of the CDC-funded grant that supports the PRCHN and is its founding director.
CDC funds 26 PRCs nationally to improve public health practice. Federal support for PRCs is highly competitive, especially in the latest cycle of funding, which reduced the number of centers from 37 to 26 nationally. The CWRU PRCHN was one of the 26 selected for the 2014-2019 cycle, which begins Sept. 30.
"We were extremely honored to have Dr. Frieden and Senator Brown visit our PRC and to have the opportunity to share the work we are doing with our community partners to improve the health of residents in disadvantaged and underserved neighborhoods of Greater Cleveland," Borawski said. "It was particularly inspiring to hear Dr. Frieden and Senator Brown share their own perspectives on what it will take to 'move the needle' on population health—and to realize that we are already out in front on most of these efforts here in Greater Cleveland."
Frieden and Brown concluded their visit with an overview of the Prematurity Research Center-Ohio Collaborative by Chance and Sam Mesiano, PhD, associate professor of reproductive biology and site director. The center is funded by the March of Dimes.