Scientists, medical researchers at Case Western Reserve, NYU Langone Health and University Hospitals using machine-learning to predict response to immunotherapy
Medical researchers from Case Western Reserve University, New York University (NYU) and University Hospitals have been awarded a five-year, $3 million National Cancer Institute grant to develop and apply artificial intelligence (AI) tools for predicting which lung cancer patients will respond to immunotherapy.
A unique aspect of the Case Western Reserve-led study is that it will involve testing of their specific AI tools—for the first time during an ongoing clinical trial.
While these real-time treatment predictions will be used exclusively for research—and not for clinical diagnosis or treatment—the work is the next step toward trials that would allow physicians to apply the tools with participating patients.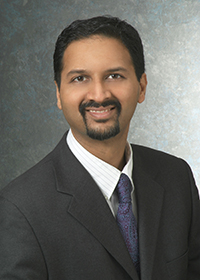 "Clinical trials down the road will be our biggest test, but now we will be—for the first time—studying changes in the tissue-scan patterns of patients as they are being treated, and that will provide real-world context of our tools," said Anant Madabhushi, director of Case Western Reserve's Center for Computational Imaging and Personalized Medicine. "Our AI tools have excelled in previous studies, but they have all been after-the-fact."
The researchers hope to predict which patients will have successful immunotherapy treatments based on previously unseen indicators in their initial computerized tomography (CT) scans. If successful, they will have more data to support using the AI diagnosis for lung cancer patients in clinical trials.
Madabhushi will again work with longtime collaborator Vamsidhar Velcheti, director of thoracic oncology at NYU Langone's Perlmutter Cancer Center, who previously worked in Cleveland.
Lung cancer remains the leading cause of cancer-related deaths worldwide, according to the World Health Organization. Dr. Velcheti said advances like the work by our team "to match patients to the right treatment—can improve outcomes and significantly reduce costs for patients with lung cancer" and that "tests to identify patients for appropriate immunotherapy treatments are a critical unmet need in the field of oncology.
"Using novel and sophisticated AI approaches, we are developing personalized strategies to identify patients who may benefit from combination-based immunotherapy approaches," Velcheti said. "This NIH grant will help advance our efforts to developing innovative approaches for patient selection and monitor patients on immunotherapy."
The team also will include the University Hospitals Radiology Department's Amit Gupta and Robert Gilkeson, both professors at Case Western Reserve School of Medicine; and Pingfu Fu, professor of Population and Quantitative Health Sciences at the School of Medicine.
AI and immunotherapy
The CCIPD digital imaging lab has become a global leader in using machine learning to discern patterns in digital images of tissue scans that can't be seen by the human eye, including for various cancers.
The lab pioneered the use of AI to predict which patients would benefit from chemotherapy. And recent research by CCIPD scientists has demonstrated that AI and machine learning can help predict which lung cancer patients will benefit from immunotherapy.
Immunotherapy uses drugs to help the immune system fight the cancer, while chemotherapy uses drugs to directly kill cancer cells, according to the National Cancer Institute.
As with their chemotherapy work, the researchers can accurately predict who will or won't benefit from immunotherapy by training a computer to find minuscule changes in patterns in CT scans taken when the lung cancer is first diagnosed. Those scans are then compared to scans taken after the first two to three cycles of immunotherapy.
Many cancer patients benefit from immunotherapy, but the treatment is expensive. Researchers hope to find a better way to identify which cancer patients would likely benefit. And those who wouldn't avoid having to pay for what turns out to be ineffective and costly treatment.
Multiple partners, sites
The Case Western Reserve-led team will also work with the ECOG-ACRIN cancer research group, a membership-based organization that oversees scientific programs and research into cancer control and outcomes, therapeutic studies and biomarker sciences. Its members include the Case Comprehensive Cancer Center.
Stanton Gerson, director of the center and interim dean of Case Western Reserve School of Medicine, called the new work a "pivotal study."
"When these data mature, we hope they will lead to improved clinical decision-making," Gerson said. "Such an advance could be transformative for physicians making those complex decisions on which treatment is best for a patient."
Madabhushi said the partnership with ECOG-ACRIN is significant because it marks the first time his center will work with a broader, cooperative oncology group. It would also further establish the "generalizability of our tools," he said, meaning the AI analysis developed at one site or with one set of patients should also be valid at a second testing site—something that has yet to be proven in AI-driven precision medicine.
Madabhushi said his team would also benefit from partnerships with pharmaceutical partners who provide researchers with access to completed retrospective clinical trial datasets of lung cancer patients previously treated with immunotherapy. This data also will help the researchers validate their tools.
The new work will also investigate how lung cancer tumors change in size and shape during immunotherapy. Oncologists now rely on whether tumors shrink or grow to determine whether treatment is working.
"But it turns out that is not a good way of assessing treatment response, and our AI research has shown that," Madabhushi said. "There are a certain percentage of patients whose tumors grow in size, but the immunotherapy is working, a phenomenon called 'pseudoprogression.' There are now other features that the computer can pull from the CT scan—both inside and in the vessels outside the tumor—that will give us a better indication."
He also said the AI would reveal the less frequent but troubling cases of "hyper-progression," in which a patient's condition is actually worsened by immunotherapy.
---
For more information, contact Mike Scott at mike.scott@case.edu.
This article was originally published April 9, 2021.