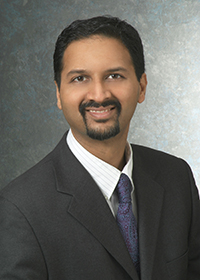 Anant Madabhushi, professor of biomedical engineering, and his team were awarded a $387,000 grant from the National Cancer Institute to develop image-based methods to predict aggression in ductal carcinoma in situ (DCIS), a precursor of breast cancer.
Madabhushi is the director of the Center for Computational Imaging and Personalized Diagnostics at Case Western Reserve University. The center's research seeks new ways to use informatics to quantitatively describe disease morphology and build new predictors for distinguishing aggression in diseases, including tumors of the prostate, breast, colorectal and brain; lung cancer; carotid plaque; and epilepsy.
This latest project will focus on developing computerized image analysis tools to identify patterns of aggressive behavior in DCIS, specifically focusing on predicting which patterns of DCIS on digital pathology images are predictive of subsequent transformation to invasive breast cancer. The work will be conducted in collaboration with Sunil Badve at Indiana University.