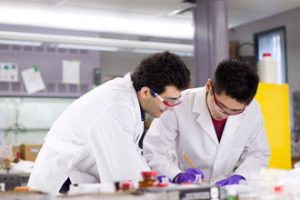 Case Western Reserve University's undergraduate biomedical engineering program jumped to eighth nationally in U.S. News & World Report's 2013 college rankings, up from 13th last year.
The rise coincides with the enrollment of the program's largest first-year class in history—estimated to be more than double the size of recent classes. The first-year class across the university is the largest, most diverse, and most academically accomplished class ever.
The rankings come from a peer-assessment survey done last spring.
Robert Kirsch, interim chairman of the department, credits his predecessor, Case School of Engineering Dean Jeffrey L. Duerk, for efforts to raise the program's profile and to recruit faculty recognized as established leaders and rising stars. Duerk also added several chairs of other biomedical engineering programs to the department's advisory board.
"These chairs came in and saw what we were really doing here," Kirsch said, "and that's helped."
The department added three new professors last year, and the faculty has grown by 70 percent in the last decade. Established and new professors regularly publish research in top journals on new ways to image disease and effects of medicine, stimulate nerves to regain control of paralyzed limbs or control prostheses, bone regeneration, nanotechnology and more.
"That has made our research reputation greater," Kirsch said.
But maybe most important is the performance of graduates in graduate programs and the workplace.
"We have a good program and a good product," Kirsch explained. "The students who come out of here are highly respected in industry."
Among the department's recent significant achievements this year:
Associate Professor Horst von Recum and research associate Julius Korley were among the first 100 researchers in the country to receive a grant and training in the National Science Foundation Innovation Corps program, a new effort to help develop scientific and engineering discoveries into useful technologies, products and processes. The researchers co-founded the company Affinity Therapeutics to commercialize technologies to deliver HIV therapies and localized chemotherapy, prevent surgical site infections and more.
The Department of Veterans Affairs awarded the Cleveland FES (Functional Electrical Stimulation) Center $4.5 million for another five years. The center, founded by Professor Hunter Peckham and now led by Kirsch, includes the Louis Stokes Cleveland VA Medical Center, Case Western Reserve and MetroHealth Medical Center.
At the suggestion of the department's advisory board, Associate Professor Dustin Tyler led the effort to streamline the undergraduate program, replacing hours in traditional lectures with "contextual" learning of principles while students engage in research. Undergraduates now have the opportunity to major in biomedical engineering and earn minors in other areas of engineering, such as materials sciences or chemical engineering—changes employers say they want.
Under the guidance of Associate Dean Patrick Crago, 19 new SAGES (Seminar Approach to General Education and Scholarship) courses are being offered in all engineering disciplines this year. Each of the new seminar-style classes gives students hands-on experience in design and other aspects of engineering.
President Barack Obama named Assistant Professor Jeffrey R. Capadona one of the nation's 96 most promising young scientists for his pioneering work in bridging connections between artificial implants and the human body. The Presidential Early Career Award for Scientists and Engineers is the highest honor the U.S. government bestows upon promising scholars.
At the American Chemical Society annual meeting, Associate Professor Erin Lavik gave a presentation and a press conference on her work designing nanoparticles that act as artificial blood platelets. In laboratory studies, the particles bonded to natural platelets and nearly doubled the survival rate in the critical first hour after injury.
Associate Professor Andrew Rollins was named a fellow of the American Institute of Medical and Biological Engineering. Rollins develops and applies advanced optics and photonics to image early disease and monitor therapy and is part of a team investigating the use of light as a potential new technology for pacemakers.
Assistant Professor Nicole R. Steinmetz was named a Mt. Sinai Scholar, and her research on targeted plant viral nanoparticles for prostate cancer imaging was published as a cover article in the journal Small and highlighted by the National Institutes of Health. Her research paper on targeting plant virus to mammalian cells, co-authored by undergraduate student Kevin Chen, was a cover article in Nanoscale.
The university and the Wallace H. Coulter Foundation established a $20 million endowment, enabling researchers in biomedical engineering to more quickly turn their technologies into treatments for unmet medical needs. The foundation's original $4.8 million partnership grant, awarded in 2006, helped launch six startup companies and funded 62 translational research projects.
For more information on the rankings, visit usnews.com/rankings.