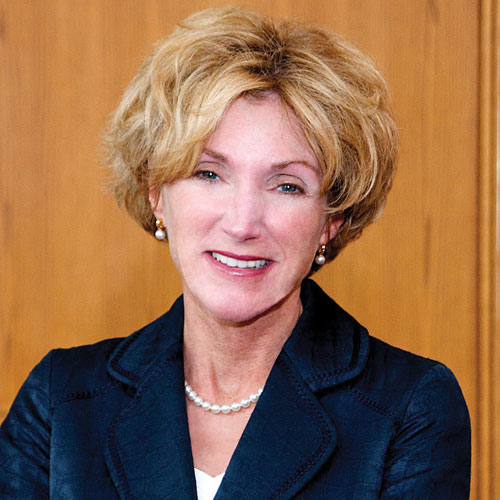 Barbara R. Snyder may no longer be Case Western Reserve's president, but support for one of her top priorities continues to climb at a rate that exceeds even her famously high standards.
Since Snyder stepped down Sept. 30, the scholarship campaign launched in her honor has grown by more than a third—to $36.5 million.
"Barbara's leadership transformed our university in ways none of us could have imagined when she first arrived," Board of Trustees Chair Fred DiSanto said. "This outpouring of support reflects not only gratitude for her work, but also her ability to help others truly appreciate the power of higher education to change lives."
Now president of the Association of American Universities, Snyder's commitment to affordability and access long predates her time on this campus. But Forward Thinking—the university's first capital campaign in nearly two decades—provided a particularly prominent platform for the subject. Donors committed more than $250 million to scholarships, fellowships and other student support, but after so long between major fundraising efforts—much more is needed.
"I am beyond humbled by these additional gifts," Snyder said after hearing the new total, "and deeply grateful to all who contributed. Their generosity will create new opportunities for promising students who might otherwise be unable to attend Case Western Reserve—and, I hope, inspire others to support scholarships as well."
Last year the university launched the President's Commission on Student Success, a multi-pronged initiative that aims to enroll more academically talented, ambitious and diverse students at the university—and in turn provide them more of the education, experiences, and support required for them to succeed while here—and after graduation.
"Barbara and other university leaders significantly raised awareness of the importance of student support," said Brittan DiSanto, who with her husband, Fred, co-chairs the President's Commission. "Now we are growing the group of people who will continue to advocate for this core part of Case Western Reserve's mission. "
In addition to current trustees, the President's Commission includes emeriti trustees, prior scholarship donors, and other members of the university and Northeast Ohio community. The goal for the scholarship portion of its work is $250 million; to date the effort has raised nearly $100 million, including the commitments in Snyder's name.
To give to the Barbara R. Snyder Scholarship Fund online, visit the scholarship fund page or contact Senior Director of Fund Development Beth Embrescia at bxe66@case.edu.