Nearly 300 years after Johann Sebastian Bach wrote St. John Passion, the piece is still being performed, held up by some as a masterpiece—and acting as a flashpoint for discussions of anti-Semitism.
Before the Cleveland Orchestra performs the passion this month, David J. Rothenberg, chair of Case Western Reserve University's Department of Music, will moderate a panel discussion March 5 on the topic.
The Gospel of John provided the basis for the text of the piece, which has been interpreted as negatively portraying Jewish people.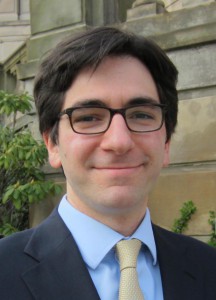 "Airing this issue in public and discussing its problematic nature are ways we can better understand this work and its historical context," said Rothenberg, also an associate professor in the music department. "But clear answers rarely result from thorny questions."
Case Western Reserve is staging the free event in partnership with the Cleveland Orchestra and the Maltz Museum of Jewish Heritage Sunday, March 5, at 3 p.m. at the Temple-Tifereth Israel in Beachwood.
"It's a very important piece of music that's withstood the test of time," Rothenberg said. "The aesthetic judgment was passed long ago; it's beautiful, dramatic and of a high quality. I haven't found anyone willing to make the argument that Bach wasn't a supreme musical genius."
While tickets are complimentary, they are required and can be ordered online or by calling the Maltz Museum at 216.593.0575.
On the event's panel are Cleveland Orchestra Music Director Franz Welser-Mӧst; Michael Marissen, professor emeritus of music at Swarthmore College and author of Bach and God; and Rabbi Roger Klein, associate rabbi at the Temple-Tifereth Israel.
"Some argue that what mattered most to Bach were abstract musical ideas that transcend religion," Rothenberg said. "But he also worked for [Protestant] churches and seems to have been pious and in tune with the musical and theological traditions of his days that have troublesome strands with regard to the Jewish religion and people.
"It's up for debate to what degree we see manifestations of this in the music," he added.
The Cleveland Orchestra will perform the piece March 9, 11 and 12 at Severance Hall.