A natural sciences and world literature double major. An award-winning student entrepreneur. A nationally renowned figure skater. Meet William Littlefield.
Littlefield has long excelled in academics, but it's his interests outside the classroom that might be most impressive.
Littlefield began figure skating as a 7-year-old in McKinney, Texas, a suburb of Dallas. Never one to shy away from a challenge, Littlefield chose figure skating over other sports due to its unique difficulty.
By age 12, he began to take the sport seriously, and just two years later he was competing in the U.S. Nationals in nearby Strongsville, Ohio. When he was 17, he made the U.S. Developmental Team as the seventh-rated skater in his age bracket.
Unlike other skaters at his level, Littlefield stayed in a traditional high school as he trained and competed, never downplaying the importance of his education.
When it came down to a college decision, Case Western Reserve University proved to be a perfect fit.
"Case Western Reserve University has a prestigious reputation and Cleveland has a storied history of great American figure skaters," Littlefield said, citing stars such as Carol Heiss and Timothy Goebel. "Cleveland Heights also has an Olympic-sized pad to practice skating. It was a 'Goldilocks' fit."
Shortly after starting at Case Western Reserve, however, Littlefield had to undergo reconstructive ankle surgery. But instead of viewing the injury as a setback, he set his sights on other interests.
"I shifted my ambitions to other projects, entering innovation and business plan competitions, and networking aggressively throughout campus," he said.
Littlefield has captained a bronze medal team at the Saint Gobain Innovation and Design Competition, been a member of the silver medal team at Entrepreneurship Immersion Week, and led the 2014 CWRU IdeaLabs Business Concept Competition champions. Some of the projects he has worked on include a thermochromic sticker that detects when a hot beverage is safe to consume and an action-adventure video game aimed at preparing students for advanced-placement exams.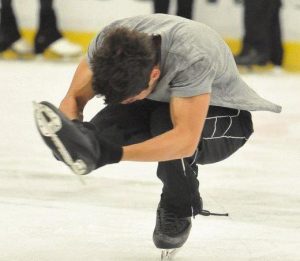 Littlefield credits much of his success at business competitions to his figure skating experience; it helped him become comfortable presenting in front of large crowds.
"You don't feel all that nervous presenting to 100 people when you have performed for 10,000," he said.
Littlefield since has fully recovered from surgery and is back to his old self on the ice. He spends about 15 to 20 hours skating each week—while still trying to balance and excel at each of his interests.
"I'm constantly juggling grades, skating and startups," Littlefield said. "Skating helps me do this, making me very Spartan in my habits…pun intended."
Find out more about Littlefield in this week's five questions.
1.What is your preferred mode of transportation and why?
Skating. It is such a time consuming part of my life and has become more natural than walking.
2. What's next on your reading list?
Next on my reading list are the works of Ludwig Wittgenstein, who is considered to be one of the most important philosophers of 20th century. I'd also like to read Business Adventures by John Brooks. I also try to read How to Win Friends & Influence People by Dale Carnegie once a year.
3. What has been the most rewarding moment for you while at Case Western Reserve University?
When my fellow student cofounders and I won a business plan competition with a product idea we developed just 12 hours earlier. It was a very prideful moment where our schooling and experience culminated into something great.
4. If you had a day to do whatever you wanted, how would you spend it?
If I could do anything I wanted for a day, I'd spend half of it skating with my friends and the other half brainstorming and spending time trying to hang out with Tesla CEO Elon Musk.
5. What is your favorite thing about Case Western Reserve?
Case Western Reserve University has so many different events available to students each week. There are lots and lots of amazing events to go to on campus in the University Circle area if you look for them.