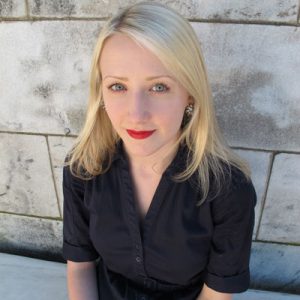 Lauren Smith has always had a knack for fashion. And though her latest foray into the design world is much less couture and a lot more wearable, it's actually earning her national recognition.
Smith, a senior mechanical and aerospace engineering double major, recently won a nationwide competition to design a new T-shirt for Tau Beta Pi, the engineering honors society, of which she is a Case Western Reserve chapter member and the public relations chair. The shirt, selected by popular vote on the organization's website, is now for sale online and is being snapped up by Tau Beta Pi members across the country.
The design competition merges her two passions in life: the arts and engineering. Smith fuels her artistic side through fashion, dance (she's a member of MaDaCol, the Mather Dance Collective) and music, having played the drums for 12 years. Plus, she spends her spare time as a volunteer at the Cleveland Museum of Art.
Volunteering there—and with her boyfriend at Church of the Covenant—"gives her brain a break" from the engineering world, which consumes much of her energy as she enters her senior year.
And it won't stop there, as Smith actually has decided to enter the BS/MS program, which will keep her at Case Western Reserve for another year. After that? She would like to enter into the field of defense contracting. "I'm a pretty patriotic person, I like to think, so anything I can do to help the men and women in service, I will," Smith said.
Learn more about the Pittsburgh native through this week's five questions.
1. What are you reading—and how are you reading it (print vs. digital)?
I'm reading a book that's called How Cars Work because I'm an engineer and that's what I do. So it's maybe not very exciting for most people, but I love it.
I will say, I hate reading from a computer screen. I love to read actual books; I think books are really important to keep.
2. What can't you live without?
Faith, family and friends. But red lipstick is a close runner-up.
3. What's your favorite spot on campus?
I love the Allen Memorial Medical Library. It's like a little secret place. The environment's so conducive to studying—it's like you walk in and think, "Wow, I feel scholarly today."
I also really love nearby spots that aren't technically on campus, like the lagoon and the art museum.
4. What's the best advice you've ever received?
The best advice I've ever received is probably from my mom about keeping a good balance in life. When you're in school, you've got friends, family, schoolwork and your faith, and you've got to make sure it's all in balance because when it gets out of balance, things get crazy.
Now, as I enter my senior year, I try to remember to really experience everything you can with your friends. You're not always going to have the opportunity to be with them all the time, so you need to make the time to do whatever it is—to go get gelato, go salsa dancing—just to do something fun and enjoy the people you're with. It's an important thing to do, but sometimes you have to remind yourself.
5. What's your favorite thing about Case Western Reserve University?
The people. I love the people here. I love everyone on this campus. When I was looking at other schools, I noticed that whenever you walk through the quad, you look at people and smile and they look away, but people here seem genuinely friendly.
I always characterize people here as "friendly smart people." I don't think it's pretentious at all. I've met a lot of great people here, especially some wonderful professors and mentors. And that's why I want to stick around.