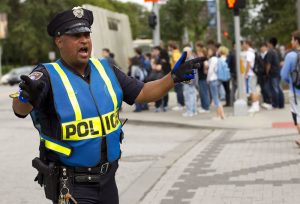 When he started guiding students and employees safely across the bustling Euclid Avenue and Adelbert Road intersection, Case Western Reserve University police officer Mark Chavis thought it was just temporary.
At the time, the Euclid Corridor project was taking off, and the police department decided a crossing guard should be stationed at the construction-heavy corner to ensure students' and employees' safety.
Now, about six years later, what was once temporary has become permanent—and Chavis has become one of the most well-known figures around campus. There's even a Facebook page dedicated to him, which has more than 2,300 fans.
The gregarious crossing guard, who's actually a carpenter by trade, joined Case Western Reserve more than 10 years ago, beginning as a security guard. He moved across campus, from the law school to medical school, from foot patrol to mobile patrol. Then, after he finished his training at the Cleveland Heights Police Academy, he became the "Officer Mark" everyone knows today, taking up post on the corner of Euclid and Adelbert.
What more is there to know about the man we all see day in and day out—the one who greets us with a smile and a high five? Find out now.
1. What are you reading—and how are you reading it (print vs. digital)?
I'm a huge Sports Illustrated and Outdoor Life reader—both in print. I love fishing and other outdoor stuff like that and I'm a sports fanatic, so these are my two big magazines I read. I'm a huge Cleveland fan—whether it be baseball, basketball, football—anything and everything. I always tell everybody that they're going to win every game…I just don't bet on them. But I support them 150 percent! I'm a die-hard Cleveland fan.
2. What can't you live without?
I feel like I shouldn't say this, but it's my pastime: television. I can't live without TV. I love watching reality shows and stuff that's actually real, not scripted: National Geographic, Weather Channel and sports.
I could, however, live without the Cleveland snow.
3. What's your favorite spot on campus?
My favorite spot on campus is Adelbert and Euclid. I know that sounds like a typical Officer Mark response, but if I think of where I have the most fun, it's Euclid and Adelbert. That's the most happening spot on the Case Western Reserve campus.
4. What's the best advice you've ever received?
There are two that I always tell the kids, and I stick by them a lot. I think it's important that these students share their opinions and ideas, regardless of whether they're nervous or shy or not. So I always tell them, "A closed mouth will never get fed."
I also tell them, "If you don't stand for something, you will fall for anything." I think that's really important to remember too.
5. What's your favorite thing about Case Western Reserve University?
The family atmosphere and community, which I really get to enjoy every day on campus. I also follow all my Case athletics. I make sure I keep up with them online, and working on the corner where I do, I make sure I get all the information from all the teams. They keep me up to date on everything. I love being a part of that.
Know someone you'd like to see featured in The Daily's "5 questions"? Email case-daily@case.edu.