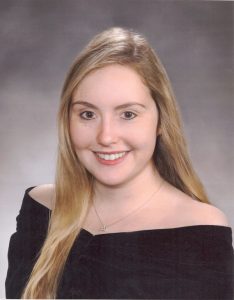 It's that time of year when everyone's setting goals and making resolutions. But junior Andrea Sterenstein is kicking off the year with one major goal already accomplished: starting her own charity.
A biology major who plans to attend medical school, Sterenstein started the U.S. Children's Medical Assistance Fund Inc. (www.uscmaf.org) to help provide medical assistance to children from low- to moderate-income families who have been disfigured in accidents, from illnesses or as a result of birth defects or acts of violence. The charity has been granted 501(c) 3 status, making all donations tax deductible.
"Kids with noticeable disfigurements are often bullied, teased, isolated from others and depressed as a result of loneliness and anger," she said. "Our goal [is] to work with pediatric medical and dental specialists to provide corrective treatment to qualified children, either free of charge or at reduced fees."
Sterenstein's obviously a woman with ambition—her friends would call it "motivation," she says. But what's her personal style, from music to books? Find out now.
1. What's on your iPod?
I have a little bit of everything on my iPod. Depending on the day, the weather and my mood, I may be sitting in my room working on homework while listening to country music, dancing with my roommates to some old school Backstreet Boys or hanging out with friends listening to hip hop.
2. What's your favorite spot in Cleveland and why?
I love Coventry! From the little boutiques to the grocery store to a few of my favorite restaurants, it seems to have everything. It is wonderful for date night, a night out on the town or just for an afternoon stroll.
3. If you could only take three books with you to a deserted island, what would you take?
Since I am an avid reader that would be a difficult choice for me to make. I would definitely want a modern-day version of The Swiss Family Robinson—I wonder if it's available in step-by-step format. If I became stranded, I'd at least have a fabulous tree house!
My favorite book is Small Steps: The Year I Got Polio but that's (obviously) a very depressing book, although the ending is very positive. Small Steps would provide me with the strength to keep going, even though I'm all alone.
My third book would have to be an MCAT review book because I'd have so much time to study in quiet surroundings.
4. What one word would you use to describe yourself, and what one word would your friends use to describe you?
The one word I would use to describe myself is "dedicated." Whether I am working on a homework assignment, tutoring local high school students or helping a friend out, I always dedicate myself 100 percent. If I am not fully dedicated to what I am doing, I feel that I am not achieving all that I can.
The one word my friends would use to describe me is "motivated." I love working with other people and motivating each other.
5. What's your favorite thing about Case Western Reserve University?
I love how everyone is so friendly, as well as how Case [Western Reserve] is on the cutting edge of medical breakthroughs. It has a huge impact on the medical field even though it's a relatively small school.