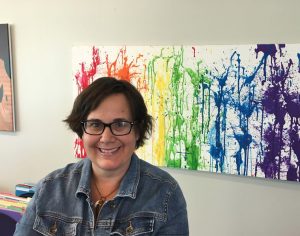 Liz Roccoforte remembers being a sensitive kid.
"I was easily upset by seeing others in pain, so much so that I was sometimes teased for being 'oversensitive,'" she said.
This sensitivity, however, remains at the core of her work.
"I have a personal stake in the LGBTQ community," said Roccoforte, who identifies as queer, "but the LGBTQ community is diverse and vast. Even though I don't share the exact same identity with everyone who shares the acronym, I hope my sensitivity to their experiences will assist me in supporting them and advocating for change."
As director and the only full-time employee at the university's LGBT Center, she's been the driving force behind LGBTQ (lesbian, gay, bisexual, transgender and queer or questioning) acceptance and understanding at CWRU.
Roccoforte was key in raising CWRU's rating on the Campus Pride Index this year, from four out of five stars to 4.5. The rating is a premier indication of how the university is doing in matters of inclusiveness and LGBTQ policies, programs and practices.
This new 4.5 rating comes just a year after CWRU dropped from a five rating to a four—but the initial drop came amid changes to the index to make it an overall better reflection of inclusive policies and practices.
Throughout the LGBT Center's six-year history, Roccoforte has been a dedicated figure in not only building the center up, but also cultivating an improved campus culture for LGBTQ people.
While she was not involved in laying the groundwork for the center—a committee worked for years to establish an LGBT center at CWRU before its fruition in 2010—Roccoforte split time between the Office for Inclusion, Diversity and Equal Opportunity and the center in 2010, and soon took on the role of director full time.
In her time with the center, a key initiative she's helped to develop and implement is Safe Zone training to create a visible network of individuals dedicated to being allies for LGBT people. Since the program was initially instituted at CWRU (before the LGBT Center even opened), more than 1,200 people have completed the workshops.
"While Safe Zone has never been a mandatory training, it eventually became something people genuinely wanted to do. That's when you know you have a pretty successful program. When sororities and fraternities and STEM-based academic faculty are calling us and saying, 'We want Safe Zone for our people,' you hope its an indication of a sincere culture shift on campus."
A revamped version of the program will launch this fall to provide the most up-to-date information to those who opt to participate.
While Roccoforte is always looking to improve the center and overall campus environment—ratings or not—the Campus Pride Index gives her and her team of student workers and part-time department coordinator AmariYah Israel something to work for and build upon, spelling out the areas that could use the most development and providing information about best practices.
Chief among the reasons for the improved rating was the creation of the LGBTQ Research Group and Diversity 360, which provided more academic backing and awareness, respectively.
The LGBTQ Research Group brings together faculty, staff and grad students interested in pursuing research projects or initiatives related to LGBTQ studies. Meanwhile, Diversity 360 is a campuswide diversity education program to increase inclusiveness at CWRU.
Roccoforte recognizes that not every LGBTQ student at Case Western Reserve University has a 4.5 experience. Instead, she said, some might have a zero—and it's exactly those students who she's working for.
But in general, she believes the rating is reflective of the support and sense of community LGBTQ students feel at CWRU—which is something she aims to maintain and improve upon.
Roccoforte has been busy this week leading programming for first-year students. But she took the time to sit down with us to answer our five questions. Check out her answers below.
1. What's the best way to spend a summer day in Cleveland?
I'm from San Diego, so I think a lot of people wonder how I'm here still. But I love summers in Cleveland, especially with my wife and son. There are so many things to do. I think it's great to be anywhere outside. The deep green in Ohio is different than southern California and it's beautiful.
2. What motivates you to work hard?
It sounds awful, but when I hear about student, faculty or staff experiences that are negative and it's based on sexual orientation or gender identity—when I hear about those one out of five star experiences—that's what motivates me more than anything. I don't want people to have those experiences on campus. They're at CWRU because they're valuable people and, for some reason, that value is not being recognized because of their sexual orientation, gender identity or expression.
3. Who is your favorite character from a book, TV show or movie?
I love the graphic memoir Fun Home by Alison Bechdel. The central character isn't fictional, but based on Bechdel's childhood, adolescence and coming-out process. She asks in the memoir: "What would happen if we spoke the truth?"
This is simple yet important question for all of us—especially those of us in the LGBTQ+ community. Her story uses humor and a fair share of darkness to navigate the complexity of parental relationships, growing up queer and coming out. I'm super excited because her novel was made into a Broadway musical and it's coming to Playhouse Square this fall. I'm hoping to put together a trip to see it with students, faculty and staff.
4. What's the most daring thing you've ever done?
I was a theater major in college—a lot of people don't know that. I was an actor for many years. I played Hamlet in college and I auditioned against people of all genders for that role. That was really scary because it's an iconic role. And being someone who identifies as a woman, playing traditionally a man's role, felt really scary. I feel like that was brave. It was an amazing experience.
5. What's your favorite thing about Case Western Reserve?
The people. There are such great people here—dare I say, sensitive and powerful people here. People with a terrific sense of humor and people who deeply care and really want to see the university succeed and serve people equitably.