Edwin Pacheco Colón had never heard his mother so scared.
Calming her as she crouched in her room, he stayed on the line while Hurricane Maria battered her home and the rest of Puerto Rico.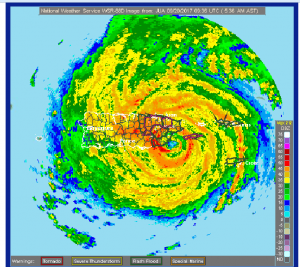 Then, silence. For days. And not just from his mother—nothing came from family members spread around the island.
Faced with the impracticality of heading there himself, and fearing the worst, Colón felt helpless until a chance conversation with Julie DiBlasio, the admissions manager at Weatherhead School of Management who recruited him into its full-time MBA program (part of a dual master's degree in physiology).
Together, they sprang into action and started an impromptu drive for supplies to be sent to the island.
"This kept me going," he said. "Otherwise I wouldn't know how to bear it or focus on anything else."
After a few days, his mother—who lives in Bayamón, a suburb south of the capital of San Juan—called, saying she was safe and surrounded by supportive neighbors.
Still, there was no contact from Colón's grandparents or his father.
Meanwhile in Cleveland, donations poured in from the CWRU community. Cameras from local news channels rolled as fellow MBA students loaded a U-Haul truck with food, water and other essentials.
Word of the drive reached Carlos Baerga, a former Cleveland Indians All-Star and fellow native of Puerto Rico, who offered to help ship supplies to the island.
Then, finally—a week after the storm hit—Colón received some relieving news: His grandparents were OK, though their home is likely beyond repair.
It was two weeks before a text arrived from his father, who is fine but remains isolated in the island's southern mountains.
Still, Colón worries how the island will recover from the costliest hurricane in its history. Most residents will remain without electricity or clean water for some time.
Next month, Colón plans to travel to Puerto Rico to shepherd supplies collected from Ohio to areas of need—and also to see and help his family begin to rebuild their lives.
He's also studying for the MCAT; next summer he'll apply to medical school.
"Family always comes first," he said. "But this drive was also good practice for the future—medical school is not going to be any easier than this kind of workload."
Time to get to know Colón in this week's 5 questions.
1. What's your favorite spot on the Case Western Reserve campus?
For studying, I love the second floor of [Frederick C.] Robbins building, but for fun I'd say the green space [Van Horn Field] in front of the Veale Center, where people play soccer.
2. If you could live anywhere else in the world, where would you pick?
Some day I'd like to retire in San Juan. But I also love Cincinnati, where I lived briefly before coming to CWRU.
3. What new skill would you like to learn?
How to suture—because I want to be a doctor. I also want to learn how to dribble a soccer ball in cool ways.
4. If you could only watch three movies for the rest of your life, what would they be?
The Pursuit of Happyness, Captain Phillips, Doctor Strange
5. What's your favorite thing about Case Western Reserve?
The personal approach of staff and faculty. They know who you are—you're not just another name, you're a person.